"This book really caters for all ranges of players as I am a real beginner, I can still play the `Easy` version. This has motivated me to get started on the even more impressive `Medium` version and at some point I am really keen to tackle the Harder version which sounds awesome." – David P.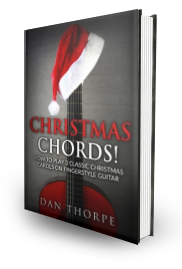 Christmas Chords! How to Play 3 Classic Christmas Carols on Fingerstyle Guitar
Do you want to learn beautiful fingerstyle versions of Jingle Bells, Silent Night and We Wish You a Merry Christmas?
BE WARNED…
This is not like any other Christmas guitar book you have read or seen.
Arranged for beginner, intermediate and advanced players and complete with tab, sheet music, audio, chords and lyrics, in this book I`ll teach you how to play 3 Christmas Carols….
….and not only that….
….I have created 3 stunning arrangements for EACH of them – totaling 9 versions all in all.
Each of the Christmas carols has an easy beginner version, a medium version and a harder version for advancing guitarists.
Dan Thorpe`s step by step book teaches you how to play three of the most famous and well-loved Christmas Carols of all time.
I already know I want to buy it
You will learn three of the most well-known Christmas carols ever!
In the book I will take you through each version in a step by step manner and each version comes complete with tab, sheet music, audio, chords and lyrics.
There are also audio recordings for each version in full for you to download or stream so you can actually hear the piece played in real time. (It`s shocking at how many books and authors don`t do this!)
There is also a printable PDF for each of the 9 arrangements so you can print off, put in a folder and learn wherever you are.
Instead of buying a book with those carols that you don`t know or like, or searching on YouTube for an arrangement that is suitable for your skill level, I recommend you take a look at this book and get started playing a piece that is made for YOUR skill level.
Learn 3 different arrangements for each skill level and each one builds upon the previous one
There are three different arrangements for each skill level and each one builds upon the previous one.
They are:
`Easy` (for beginners or more experienced guitarists who want something fun and easy to learn)
`Medium` (takes the `Easy` version and adds some simple notes to fill out the sound and make it sound even more impressive)
`Hard` (super impressive and highly exciting version which builds from the previous versions)
This means there will be something for YOUR skill level. If you are new to playing guitar, you can learn the easy arrangements.
Everyone can at least learn the Easy arrangement even if they can`t yet play chords
To play the `Easy` version you do not need to be an experienced guitarist. You do not even need to be able to play chords.
They are simple and enjoyable and your family will recognise them for sure.
Even guitarists who have played for quite some time and want a break from strumming or picking chords get a lot of pleasure from these simple arrangements and unlike a lot of chord based strumming songs these melodies are instantly recognisable.
In fact, you could learn the easy arrangement in less than 15 minutes, and then show it off to your family or just play it to start getting into the Christmas spirit.
Even if you have played for years, you`ll still get pleasure from learning the easy arrangement and then you`ll be inspired to tackle the next one!
The `Medium` arrangement builds upon the `Easy` one for even more impressive results and then the `Hard` one builds upon the easy one.
Most guitar teachers make learning this style of playing way too hard for students
Many guitarists tell me they want to learn the really impressive fingerstyle arrangements that they hear on YouTube or those played by the great Tommy Emmanuel or Chet Atkins but no one teaches them in a step by step progressive way.
YouTube teachers seem to throw them right in at the deep end with way too much complication.
I have tried to eradicate all the complication with these arrangements and teach them to you in a progressive and linear way.
You will start with the `Easy` arrangement where you will learn the melody
You will then add in the bass notes and some simple little extras in the Medium version
Finally in the `Hard` version you will THEN add in the whistles and bells for a really impressive sound
I like to make things easier for students and build up to the tougher stuff not throw you right in the deep end and kick the fun out of it unlike some.
Learn my most useful nuggets of information in the `Power Tips` located throughout the book
Pickup on some of my best and most relevant fingerstyle tips and nuggets of information in the `Power Tips` located throughout the book.
These are specific and relevant to the arrangements as well as tips and ideas you can quickly implement into your own arrangements, general playing as well as your own songs.
There are in total 27 of the power tips and each one will aid your playing as long as you implement them!
Do you find strumming chords a little boring and no one recognises what song it is?
If you are like most guitarists – particularly those who find fingerstyle a challenge then you have probably done your fair share of strumming songs.
If so, that is great as strumming songs are a good way to get the ball rolling on the guitar. The trouble with strumming songs is, that after a while they can all start to sound same-y and can blend into one.
Annoyingly some people won`t recognise them when you play them, unless you sing along. This can be a little disheartening and is a great reason why you should learn to play melodies on the guitar.
Any time you play a memorable and famous melody often the listener will recognise it right away. This is a great feeling and a big part of what the book is about.
Download and stream the audio for EVERY single arrangement that is featured in the book
I can`t tell you how many books out there are still being released that don`t actually contain any audio examples of the things they feature.
In this day and age where anyone can record high quality audio anywhere there is no excuse.
You won`t find that here.
In this book, I make sure EVERY note is recorded on high quality MP3 so you can listen to them and know exactly how they should sound – no more guessing!
Each audio example comes with a full speed and slowed down version making learning them much easier 
There are full speed and slower versions of each arrangement so you can play along with the slower one when learning and then aim to build up to the full speed version when you are more comfortable with the arrangement.
Doing it this way makes it so much easier to learn! So many authors of books neglect this and it makes learning the examples way harder for the reader – and that is if they actually give you the audio! Many don`t!
All of the techniques in this book have been thoroughly road tested for your benefit!
I have done all the trial and error for you. I have tweaked and tested these arrangements until they cannot be tweaked and tested any further, and now I present to you the finished product.
Christmas Chords! How to Play 3 Classic Christmas Carols on Fingerstyle Guitar will save you hours of frustration, countless headaches, and teach you how to have some fun this Christmas with your guitar.
Christmas is a great time of the year for musicians.
Just some of the other things you will learn in this book include:
My exact method of creating arrangements and my exact process of building them up to sound great
Why learning to properly arpeggiate your chords can add a wonderful sense of drama to a piece
The best way to learn ANY solo fingerstyle arrangement – if you have played for 1 month or 20 years.
How to get away with making a mistake when performing so your audience forgives you – hint you can sometimes make mistakes as long as it is the `right` mistake
Why the melody will always be king when playing a solo fingerstyle piece
How to add an exciting and jazzy flavour to a song by altering the 5th chord in a key in a simple way that you might already know but not use
Why your tempo should always be rock solid but how to purposely change it for a very dramatic and professional sound
The 3 levels of fingerstyle note choice – and why they are integral to a good fingerstyle arrangement
Full speed and slowed down versions for each of arrangements – 18 high quality recordings in total
Downloadable audio and a printable tab sheet
A section by section breakdown of each part of each arrangement
What an `Anacrusis` is and why they are super useful in music
Essential tips on reading some of those tricky musical symbols and why they are so useful
How to learn songs faster by breaking them down into smaller sections (this is rarely done)
How to add a root note onto a melody in a simple way to really fill out the sound and make it sound like two guitars (it is surprisingly easy when you know how)
How to play `Silent Night` in a very emotional and endearing way just by adding a few ghost notes
Why you should look for and use the chord symbols above the stave even if you are not playing that full chord!
The chords to each song so you can strum them in a conventional manner and sing along if you want to
The full lyrics to each arrangement so you can get singing along
How to use staccato to bring massive energy to an arrangement
How to use partial chords to liven up and add a J.S. Bach type feel to `We Wish You a Merry Christmas`
What exactly ghost notes are and why they are key to a hugely exciting sound
A short Q and A section of the most asked fingerstyle questions with my in-depth answers
Why conventional fingerstyle technique will often need to be adapted for solo fingerstyle playing and exactly what  you should do
How to add Travis picking to Jingle Bells to make it sound incredible
How to bridge the gap between what you hear and what you play on the guitar using advice from a jazz great
The arrangements are inspired by some of the greats – you will learn some of the cool things they do!
I make no secret of the fact that as a guitarist I`m constantly looking to improve and learn from the best of the best as well as my peers and even those guys who aren`t as skilled as me (you can always learn something from someone).
All these arrangements are my own but have been influenced or inspired to some degree by the following guitarists and teachers.
Mark Hanson
Assaf Levavy
Ted Greene
Sungha Jung
Gareth Evans
Chet Atkins
Tommy Emmanuel
Merle Travis
Chet Atkins
Build upon each arrangement and enjoy the book year after year
I believe this book will be a great one for you to get out year after year. Each Christmas I go through some of these arrangements with private students and have seen how some of my longer term students have progressed from just being able to play the `Easy` melody all the way to being able to tackle and perform the `Medium` and in some cases `Hard` arrangements.
It is really encouraging for the student to see how far they have come since last Christmas.
If you get this book, and keep aiming to improve then you will see the same progress and look back at your progress from past Christmases with pride and you can learn the tougher arrangements year after year.
Reader reviews for other Dan Thorpe fingerstyle books
Five Stars

"This is one of the best guides that I have read."
Amazon Customer  
Five Stars 

 "Another fantastic book by Dan Thorpe. The book is well structured and clear. It 'speaks' to you almost as if Dan is in front of you giving you a lesson.
Each chapter flows logically into the next with a good mix of easy to understand theory and practice exercises to reinforce the theory.
The building blocks soon start to stack up and you get visible results. Can't get enough of this author's books – they're great!"
Anne  
Five Stars 

"Starts with the basics and builds upon them. Very detailed and it has helped me tremendously at the technique. I would definitely recommend this book to anyone looking to learn the techniques outlined in this book."
Jeff M. 
Five Stars 

"Not my first purchase from Dan and sure it won't be the last. Clear instruction in a relaxed manner ideal for any guitar student. Can't wait to get further into it. This guy has been a great help to me!"
Colin Newcombe 
 Five Stars 

"I was stuck with my guitar progress and then found Dan. His material is excellent, easy to follow and makes a lot of sense. I am already starting to see a way forward with my musical journey. Plenty more is available from Dan, so look forward to becoming a better player."
Jon Hopkins 
Five Stars

I've played my electric for about 2 years now, but I recently bought my first acoustic and I've always loved finger style from listening to Fleetwood Mac. I never thought to try it out though.
`Fearless Fingerstyle` is a great instructional book. It's simple to understand and gives great advice for bettering your skills.
I recommend this book to anyone willing to put forth the effort in learning a beautiful way to play your guitar."
Zachary Calhoun 
Five Stars

"Great little book to get you started on fingerpicking."
D.H. Dobson 
---
You will save a lot of time with the information in this book. If I were to teach you everything here, one-on-one, it would take countless hours to do so. The small price for `Christmas Chords! How to Play 3 Classic Christmas Carols on Fingerstyle Guitar` saves you something even more valuable than money – your precious time.
Remember, I have road tested all these techniques on real-life students and refined them many times so that they can be easily digested, are practical and most of all, useful for you.
***No Questions Asked, 90 day 100% Money Back Guarantee***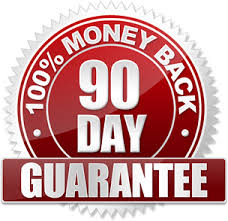 Buy Christmas Chords! How to Play 3 Classic Christmas Carols on Fingerstyle Guitar and if you are in any way dissatisfied once you have read the book, I will refund all of your money immediately, no questions asked.
I have no problem offering this kind of guarantee. Why? These very techniques are those I use to teach guitar work repeatedly to countless students of mine, either in direct one to one lessons or group lessons. I know these techniques work. They'll work for you too.
The book comes in both PDF and kindle formats, along with all the audio for the examples in the book which you can either stream or download and a printable tab PDF.
Buy today for just
$9
(Please note that you do NOT need a PayPal account to purchase this product).