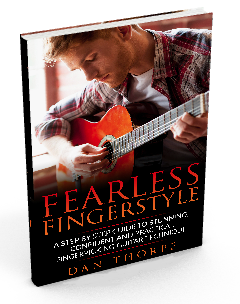 Learn how to play beautiful fingerstyle guitar, taught in a clear, step by step and straightfoward way
Dan Thorpe's simple, yet sophisticated, book teaches you how to discover the real secrets of fingerpicking guitar, and learn in a short amount of time how to play stunning music using the best techniques.
Do you love fingerpicking guitar, but feel like you just can't quite get to the next level? Or don't know how to play the simple things that sound amazing?
Plenty of guitarists stress out about fingerpicking. They watch talented artists playing on stage, in front of audiences often numbering in the thousands, playing beautiful pieces with perfect technique and seemingly effortless skill.
How do they replicate their heroes?
It often seems almost impossible.
I have watched as guitarists time and time again struggle with playing simple passages in a routine manner. That must come to an end!
If you want to do – or have ever thought about – any of the following, then you will love what this book has to offer…
You want to add excitement to a piece (But currently don't know how to do so)
You want to play your favourite songs (But your technique lets you down)
You want to perform the music of your dreams (But your fingers just can't quite get it)
You want to be creative on the guitar and experience Freedom with the instrument – Tip: This shouldn't take hundreds of hours (You will easily unlock all those secrets in this book)
Fortunately, there are 8 essential techniques that will help you become an accomplished fingerpicker…
BUT…
Most of the advice you find online on these techniques are aimed at Rock and Metal players. Furthermore, they can be poorly taught – especially when it comes to YouTube and blog posts. The techniques are just not explained properly and often leave you feeling confused – after all, there is only so much you can learn from a 10-minute video.
Some of these techniques you know about, some you have heard of, and some you probably have never come across before.
Introducing…
Fearless Fingerstyle: A Step By Step Guide To Stunning, Confident, And Practical Fingerpicking Guitar Technique
Fearless Fingerstyle features complete explanations on how to play things such as legato, hammer-ons, pull-offs, slides, partial chords, scales runs, double stops, drone notes and mini-bass runs.
I take you through each and every one in detail, showing you how to incorporate them into your fingerstyle playing in a natural, fun, and exciting way.
You will get 5 examples for each technique, with tab and audio – showing you how to play the technique in its simplest form, all the way to a sophisticated piece of music.
As a treat, you will find that the fifth example for every technique is quite special, and will hopefully stay with you for a long time.
You'll also get access to an audio page where you can either stream or download, the high-quality MP3s. Your choice.
It's time to end your fingerstyle frustrations and become a Fearless Fingerstyle guitarist who can play beautiful music like the best.
A.J. Wyse says…

"Excellent Book! Just what I was looking for, it has been really helpful in my quest to teach myself fingerstyle." 
Stop wasting time Googling, or hoping to stumble upon the right YouTube video – all the answers you seek are in this book
Take for example YouTube; finding a decent video might take you hours on end and even then, the explanation you get might be confusing.
What about asking a guitar teacher? He – or she – might not be able to explain these ideas, or might not fully know them. In addition, you will be paying greatly to learn from them.
What about a friend who plays the guitar? If you have ever asked a non-teacher for advice, then you probably know they usually struggle to get their ideas across.
Where does that leave you?
You can, of course, use the trial and error method, but that just means you`ll be spending much of your time finding out what does and doesn't work.
If – like most beginner guitarists – you are looking to become an accomplished player, then you may end up just re-treading the same old ground because it is the 'safest' option.
All of the techniques in this book have been thoroughly road tested ensuring they are ready for you!
I have done all the trial and error for you. I have tweaked and tested these techniques until they cannot be tweaked and tested any further, and now I present to you the finished product.
Fearless Fingerstyle: A Step By Step Guide To Stunning, Confident And Practical Fingerpicking Guitar Technique will save you hours of frustration, countless headaches, and grant you the opportunity to create some really stunning guitar pieces.
If done right fingerpicking will add many years of fun, joy, and expression to your guitar playing life, almost like a medicinal salve for the soul.
You know what I mean when you hear your favourite guitarists. Stop right now, and just imagine yourself playing their pieces.
Is it possible?
Why not! Not only is it possible, if you follow what is in the book, you'll find that you're much better at playing than most, and it will be fun and rewarding as well.
Just some of the things you will learn in this book include:
What legato techniques are, and how they add smoothness to your playing
How to properly perform hammer-ons and pulls-offs, especially when playing chords
Why slides not only sound slick but are also your best friend when moving around the fretboard
How these simple little two finger chords will add an otherwise impossible sophistication to your playing
The essentials of the most popular key on the guitar and how to use them to create beautiful music
The best way to understand essential terminology so you can talk about and understand musical lingo with confidence
The 3 methods for essential fretting-hand technique
A separate printable tab sheet, featuring all the examples in this book
Downloads of all the audio examples for this book
Two key shapes you can move around the fretboard for stunning sounds
Why open strings can make a huge difference to your ability to keep the music grooving
How to play drone notes, and why they give you freedom on the guitar
The basic 'rules of fingerpicking' and why they will save you time
How to use partial chords for a highly melodic sound that anyone can play and use!
A chord guide for the examples in the book – it is, after all, not assumed you know all the chords by heart!
How to play two octaves of the Major scale, and more importantly, how to add this scale to your playing for amazing results
Specific steps on how to utilise double stops into your playing for stylish AND harmonic playing
What the 'relative minor key' is, and why it is so useful to know and understand
The three key methods for essential melodic fingerpicking guitar
How to play scale runs like a real pro to add some melody and speed
Specific steps on using 'mini-bass runs' and how they will add refinement to your playing
A useful terminology guide so you can be confident about all the things mentioned in this book
The secret time-saving pointers that will make your fingerstyle journey that much easier and fun
5 examples for each of the techniques, all taught in a simple, step-by-step manner
Specific steps to apply all the techniques in a practical and fun way
Learn the techniques your favourite artists use on a daily basis to stun and wow their audiences
You no doubt have your favourite fingerpicking songs and artists. Many of them have played for a long time and therefore developed their skills over many years. As a passionate guitarist and teacher, I have studied the best of the best and learnt a lot from them. The knowledge I gained is what you'll receive in this book.
As I want every technique in the book to be achievable for most beginning and novice players, I have left out some of the more difficult techniques, such as harp harmonics.
The good news, however, is that many famous guitarists don't typically use things like harp harmonics or other super complex techniques for much of the time. In fact, I'd say 95% of their technique is based on what you will learn in this book, given a personal twist.
In Fearless Fingerstyle, you will learn the fingerpicking techniques used by artists such as:
Ed Sheeran
John Butler Trio
Damien Rice
Eddie Vedder
James Taylor
Merle Travis
Chet Atkins
Donovan
Ferdinando Carulli
Tommy Emmanuel
Paul Simon
Cat Stevens
Michael Hedges
John Renbourn
Kansas
Dixie Chicks
Crosby, Stills and Nash
Arlo Guthrie
The Beatles
Bob Dylan
Jim Croce
Fernando Sor
John Denver
Bonnie Raitt
Peter, Paul and Mary
Fleetwood Mac
and many others…
Did you know that your fretting hand plays a huge role in creating stunning fingerstyle music?
As well as learning some really cool and exciting fingerpicking patterns, this book takes things further.
In it, we also focus on the key fretting hand techniques that are needed to be able to play fingerstyle well.

There are certain methods and techniques that don`t get talked about a lot with fingerstyle in regards to the fretting hand and these methods are often essential to be able to make stunning fingerpicking music. 

This includes things such as legato, partial chords, drone notes, slides, bass runs, and much more. All of this is taught in the context of some beautiful pieces using lovely chord progressions and exciting fingerpicking patterns.
This book also helps to develop the fretting hand, teaches you some stunning ideas and helps to train this fretting hand making the movements needed to play real songs and music easier and in a more enjoyable way.
The music in this book is a lot of fun to play and learn. 

In this book, you will learn my best fingerpicking techniques and some cool little tricks that are rarely talked about by others.
Anyone can learn these techniques, however, you need to already know your basics
You don't have to be an intermediate, or so-called expert, guitar player to enjoy and learn plenty from this book. I have taught these methods to a variety of guitarists over many years now.
Contrary to popular belief, it really doesn't matter how long you've played. When you are taught to do things in a specific way that you understand, almost anyone can learn to play.
This is one of my main aims in this book – to make it so any guitarist (within reason) can play these wonderful techniques and learn these pieces.
There is one caveat, however – if you are an absolute beginner, this book may NOT be for you.
You will need to get good at basic chords, be reasonably able to change between them, and be able to do a little fingerpicking. Then is when you can get the most out of this book.
In addition to this you will learn a variety of my most beautiful, and never before revealed, chord progressions
The chord progressions you will learn are some of my favourite as well as some of the most beautiful patterns you will hear.
By the end of this book, you'll be far more comfortable knowing how to play a variety of stunning chord progressions. You'll also have far greater control over what is probably the most commonly used key on the guitar and you'll be a much more natural and well-rounded musician, as well as fingerpicker, because of this.
All the chords in the book have been shown in a clear, simple, and easy to understand chord chart, along with a tab for every example.
It's not just beautiful techniques you'll be learning in this book either. It is real world, applicable music that you can use on a daily basis.
All the examples will work and sound great on ANY guitar you are comfortable playing – acoustic, classic, or even electric.
Let me take you on a fun, simple, step-by-step journey that you will be sure to love.
Prepare to make stunning music that isn't just a technique, but a real and applicable thing that will make you a better guitarist overall.
Reviews and reader feedback for my other fingerpicking books
5 stars – "Another fantastic book by Dan Thorpe. The book is well structured and clear. It 'speaks' to you almost as if Dan is in front of you giving you a lesson. Each chapter flows logically into the next with a good mix of easy to understand theory and practice exercises to reinforce the theory. The building blocks soon start to stack up and you get visible results. Can't get enough of this author's books – they're great!." – Anne (Amazon customer)
5 stars – " I have fingerpicking books, including a Travis picking book but I must say that this is a terrific book for anyone interested in this style of guitar playing. I didn't know what to expect from this but took a chance at the price and am glad I did so. It is a bargain and I heartily recommend it." – Scourge (Amazon customer)
5 stars –Very happy with the purchase (Amazon customer)
5 stars – "Great little book to get you started on fingerpicking." – D.H. Hobson
Exclusive to the expanded version
Order the expanded version today and you will receive these three great extras…
Learn how to play the stunning 'Showpiece Song'
The Showpiece Song is a piece I have created which uses all 8 of the techniques featured in Fearless Fingerstyle to create a harmonic and beautiful sound.
It is an original composition that contains all the essential techniques, as taught in the book, so you learn how to put them together to create a contemporary piece of music that uses these classic techniques.
Most tuition books show you how to play something, but not how to use the technique in the real world. This often makes learning things frustrating. I want to ensure you know exactly what you can do with these techniques using a real piece of music.
Listening to this piece is fun, and learning it will be very productive for your growth.
Not only will it help you learn and master the techniques so they are ingrained into you and become a natural part of your core playing, but also this piece will help you gain the skills to be able to play your favourite songs faster and with better technique.
The Lost Chapter – Harmonics
There is a chapter that didn't quite make the final cut for this book as it was the next level in difficulty and I wanted to keep the techniques in this book fairly simple.
I decided, reluctantly, to leave this chapter out and use it for a later book. In the end, however, I thought that it would be great to give as a free bonus for those of you ordering the expanded version.
It is a great chapter and one that fits wonderfully with the other techniques in Fearless Fingerstyle, though somewhat different. Harmonics can add a harp-like sound to your playing that is otherwise impossible to get. When I use harmonics in my playing, the listener immediately notices the effect.
Harmonics can really help you stand out. Tommy Emmanuel loves using them, which says it all!
My fingerstyle arrangement of 'Air on a G String'
J.S. Bach's 'Air on a G String' is one of those beautiful pieces of music that everyone knows. It features some of the techniques as taught in Fearless Fingerstyle and this arrangement of mine is one that has been used to teach a variety of students.
Learn it, add it to your repertoire, and it will aid you in developing the skills you have learnt in Fearless Fingerstyle.
This arrangement comes in Guitar Pro format, as well as PDF. Note that you do NOT need Guitar Pro to use the file, you can simply use the free software Tux Guitar to use this bonus.
---
You will save a lot of time with the information in this book.
If I were to teach you everything here, one-on-one, it would take countless hours to do so. The small price for Fearless Fingerstyle saves you something even more valuable than money – your precious time.
Remember, I have road tested all these techniques on real-life students and refined them many times so that they can be easily digested, are practical and most of all, useful for you.
Fearless Fingerstyle eBook
PDF and Mobi (kindle versions)
Download MP3`s for all 40 audio examples
Free Inner Circle tutorial - `Imagine`
`The Showpiece Song`
The Lost Chapter - `Harmonics`
Guitar Pro - J.S. Bach: Air on a G string
Fearless Fingerstyle eBook
PDF and Mobi (kindle versions)
Download MP3`s for all 40 audio examples
Free Inner Circle tutorial - `Imagine`
The Lost Chapter - `Harmonics`
Guitar Pro - J.S. Bach: Air on a G string
Fearless Fingerstyle eBook
PDF and Mobi (kindle versions)
Download MP3`s for all 40 audio examples
Free Inner Circle tutorial - `Imagine`
The Lost Chapter - `Harmonics`
Guitar Pro - J.S. Bach: Air on a G string
New – Paperback version now available from Amazon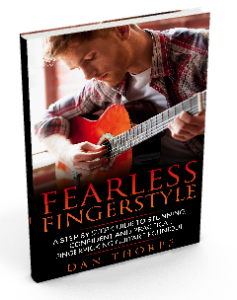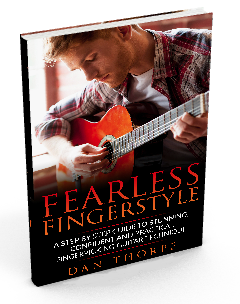 ***No Questions Asked, 90 day 100% Money Back Guarantee***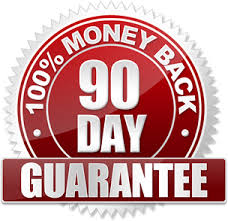 Buy Fearless Fingerstyle: A Step By Step Guide To Stunning, Confident And Practical Fingerpicking Guitar Technique and if you are in any way dissatisfied once you have read the book, I will refund all of your money immediately, no questions asked.
I have no problem offering this kind of guarantee. Why? These very techniques are those I use to teach guitar work repeatedly to countless students of mine, either in direct one to one lessons or group lessons. I know these techniques work. They'll work for you too.
Basic version
The basic version features the complete eBook in both PDF and Kindle formats, along with all the audio for the examples in the book which you can either stream or download.
This is the same as the version you will get if you were to order it from Amazon.
Get it today for just…
$9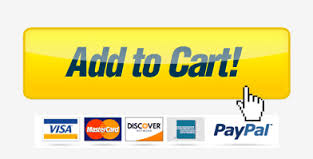 Expanded version
The expanded version features ALL of the above plus more.
In this version you will get the Showpiece Song which is one of my favourite pieces of music I have created, The Lost Chapter featuring the subject of harmonics and my guitar pro version of J.S. Bach`s Air on a G string which is a magical and fun piece to play which ties in with the techniques in the book.
Get it today for just…
$15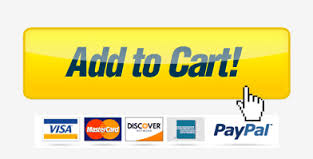 (Please note that you do not need a Paypal account to purchase this product)
New – Paperback version now available from Amazon