Guitar Domination`s Ultra eBook Bundle…
10  books for just 
All have multiple 5 star Amazon ratings worldwide
Limited Time Offer
Get my very best eBooks in one neat package…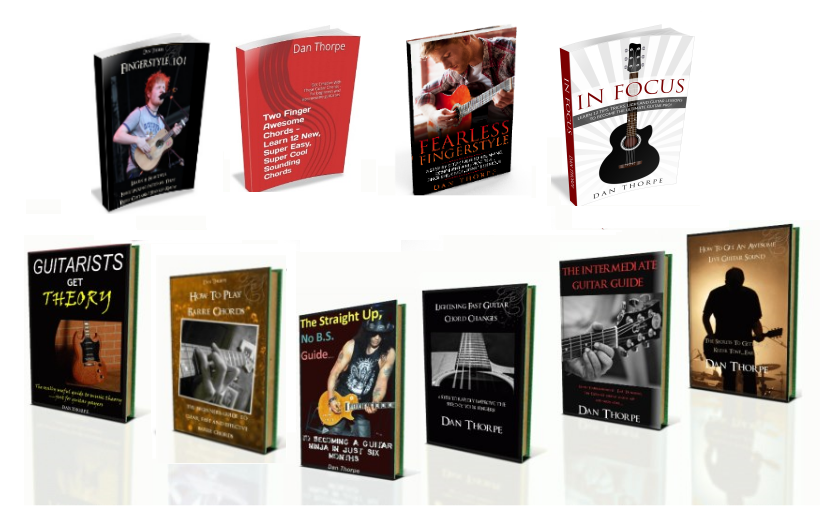 This includes the Amazon Kindle hits:
Guitarists Get Theory: The really useful guide to music theory: …..just for guitar players
Lightning Fast Guitar Chord Changes: 6 steps to rapidly improve the speed of your fingers
How To Get An Awesome Live Guitar Sound: The Secrets To Getting A Killer Tone…Easily

The Straight Up, No B.S Guide To Becoming A Guitar Ninja In Just Six Months
The Intermediate Guitar Guide: Learn Embellishments, Ear Training, The Ultimate Warm-Up and More…
Two Finger Awesome Chords
Fingerstyle 101: Learn 8 Beautiful Fingerpicking Patterns That Every Guitarist Should Know
How To Play Barre Chords: The Simplified Guide For Chord Guitar Mastery
Fearless Fingerstyle: A Step By Step Guide To Stunning, Confident, And Practical Fingerpicking Guitar Technique
…and latest book…
In Focus` – Learn 12 tips, tricks, licks and guitar lessons to become the ultimate guitar pro!
All 10 books are available in both pdf and mobi formats so you can read them on your

PC, mac, phone, tablet and Kindle.

All 10 books are jam packed with useful and highly relevant information to shorten the learning curve for the modern guitarist and to help you learn in a fun way.
All 10 books are written from real world, practical advice from full-time guitar teacher Dan Thorpe.
All the techniques you will learn are the exact same ones I teach my students on a day to day basis consistently taking 96% of them from having never played before to fast becoming the guitarists they dream of being.
You will learn what my private students learn…at a fraction of the cost
Instead of you paying $40 (about £30) per lesson for about 6 months of private tuition (which totals $1,040), you can now access my key knowledge and lessons that all students are taught for just a fraction of the price.
Here is a little about each book and just some of the key things you will learn.
Amazon Reader Reviews

"This is a GREAT book. Short, to the point, and covers one of the most essential–yet overlooked, when it comes to method books–techniques of playing the guitar. Considering that most guitar instruction books are $16-$25.
It's short, sweet, and to the point. The author teaches the five most common strumming patterns, each with a variation. He provides a link to a sound file for every pattern/variation, which is to be expected as it helps a tonne (but not every book does this).
An absolute 100% essential if you're still learning the basics of guitar. This is also a good book for plenty of guitarists who play out. 
This book really delivers on its promise. Short and sweet. A really essential and really under-covered part of musicianship. If you're on the fence, I feel like even one strumming pattern in here is worth the price. After all, how many would you get taught in a half-hour $20 lesson? Not the 5/10 you're getting in here, I'm pretty sure. Yes, I like it."
Guitarists Get Theory: The really useful guide to music theory: …..just for guitar players
Learning music theory CAN be complicated and it can be boring but it doesn`t have to be!
Do not worry – `Guitarists Get Theory` has the answer taught in a fun, light-hearted and simple to follow guide.
Learn how to find the notes on the fretboard using Dan Thorpe`s unique pattern system
Finally, discover all the notes on the fretboard in a clear and logical way
Learn other people`s songs far quicker and with better understanding
Learn how to run up and down the fretboard and without playing wrong notes
Get 3 absolutely must know formulas that even most `experienced` players don`t get
Use and understand `The Note Circle`
Discover the 1 simple trick that will supercharge the most important part of your own songs
Understand the powerful time-saving concept of ` Relative Major and minor keys`
Amazon Reader Review 

"I have been playing the guitar for years, but theory has always eluded me as a self-taught player. This book, in the span of an hour, has taught me more than I've learned in the last decade. So simple, but so clear and easy to get. I can't wait to read it again and begin to finally grasp the guitar, instead of fumbling around for hours waiting for "my ear" to find the right notes.
This is a must read for anyone beginning the guitar. Learn this now and save yourself the pain, for experienced players, take the time to look this over if you have questions about theory. It also explains the "Nashville" style of session playing that uses Roman numerals for chord progressions, something I always struggled with.
Spend the few bucks, it's better than a year or lessons"
Lightning Fast Guitar Chord Changes: 6 steps to rapidly improve the speed of your fingers
Did you know that slow chord changes are the reason why most beginner guitarists quit the guitar and those that don`t quit spend many months (sometimes years) forcing themselves to practice and not really enjoying it?
Well, enough of that. There are specific things you can do to increase the speed of your chords changes so you can actually get on enjoying your guitar playing and be playing the songs you love.
`Lightning Fast Guitar Chord Changes` has the solution.
In this eBook you will learn:
6 powerful steps to help you master the `dark arts` of changing chords.
How to apply these techniques to ALL your chord changes
How to use the `Lift-off method` to massively cut down the time it takes to change between common chords
A pro secret that many guitarists don`t know about until they stumble upon it (often years later) that makes chord changing much smoother
How to finally play songs without those annoying little stops between the chord changes
Amazon Reader Review 

"This is a fantastic resource for learning to make chord changes on the guitar. If you are struggling with making the pieces you play flow nicely because of the pause between those changes, "Lightning Fast Guitar Chord Changes" by Dan Thorpe will set you on your way to improvement!
The information is explained so well that it's easy to notice immediate improvement which (at least for me) kept me wanting to practice and did not feel like a chore. At a few bucks is worth the small investment! Highly Recommended!"
How To Get An Awesome Live Guitar Sound: The Secrets To Getting A Killer Tone…Easily

If I could show you a guaranteed way to get an awesome guitar tone, without spending a lot of money and doing so with instant results you can get today would you be interested?
Do you struggle to get the tone you hear in your head?
Do you dream of getting the tone of your favourite guitarists but no matter what you do you can`t get that sound?
Do you constantly tweak your amp settings to no avail?
Do you struggle to get heard in the mix?
Well, we have all been there at some point. Now you can save a huge amount of money and time and spend it on the things that count, like actually playing the guitar and not having to tweak your tone for an hour first!
Over a guitar players lifetime, you could spend $10,000`s of dollars trying to get `that tone`. Many people do.
You could also spend 1000`s of hours of tweaking and testing. Now you don`t need to, How To Get An Awesome Live Guitar Sound has all the information you need to see instant, usable results that will enhance your tone dramatically.
Amazon Reader Review 

"What I liked about this book was its brevity on topics. If you're having this issue, boost this frequency band, on you're EQ. For beginners, that's a much more useful way to approach a topic, than an in-depth treatise on physics of sound. If I want that, I can read it after I settled the issue at hand, when I've progressed to the point of being able to understand the author. I appreciate that."
The Straight Up, No B.S Guide To Becoming A Guitar Ninja In Just Six Months
Have you starting learning guitar for a while but have made no REAL progress?
Do you struggle to make simple chords changes?
Have you watched a tonne of YouTube videos but not found anything useful to YOU?
Do you really want to learn the guitar but fear you are not good enough?
We have all been there – trying to get good at playing the guitar can feel like banging your head against a brick wall.
In this book, I will help you in a specific step by step way, solve the following issues:
Exactly which 5 chords you should start off learning (these will allow you to play countless songs)
Easy starter songs that will blow your mind.
How to practice in the most efficient manner
Why rhythm is your most important tool – and how to develop it!
How to develop awesome aural skills (hint: this is one of the secrets to being a superb player)
How to stop wasting time and money on unnecessary equipment and gear
How and why it is critical to stay motivated even during the dark days
7 Ninja tips to help you kick butt on the guitar
and more…
Amazon Reader Review 

"Very helpful loved it"
The Intermediate Guitar Guide: Learn Embellishments, Ear Training, The Ultimate Warm-Up and More…
Discover the secrets that allow you to dramatically improve your guitar playing in less than one year.
Imagine, in one year's time being the guitarist you have always dreamed of being. You are now ready to take the next step with your guitar. That step is intermediate guitar. This book features…
Multiple drum beats to jam along with and practice your beginner, intermediate and advanced guitar skills
3 PDFs containing `The Ultimate Warm-up`
Discover 7 key steps to finding a band you have always dreamed of being part of.
Learn the `Aural Association Method` to work out ANY song you want anytime
Your very own PDF featuring 44 ideal songs to work out by `ear`
Practice routines created for beginner and intermediate guitarists everywhere
Learn the F.R.A.T principles and what they will do to power up your practice routine
The importance of recording yourself and how your smartphone can make you a better guitarist
Test yourself with The Ultimate Warm-Up Challenge
Some of my reader`s personal highlights from the book include the chapters:
Use embellishments to wow your audience…
Showing you how to play guitar riffs, chords and techniques in the style of Jimi Hendrix, Radiohead and John Frusciante (Red Hot Chili Peppers).
The Ultimate Warm-Up…
An awesome warm-up and technical exercise that will improve your guitar speed, dexterity, precision, scale runs, alternate picking and more…
Amazon Reader Review 

"As a new guitarist I was looking to a book for advice and to point me in the right direction and I found it!!! This book is fantastic! The author clearly has a wealth of knowledge and experience in regards to this instrument! The book is suitable for new or experienced guitarists and I would highly recommend (in fact I have to many people!).
Definitely 5 stars!"
Two Finger Awesome Chords
Two Finger Awesome Chords features… audio, tab and plenty of useful tips on how to play simple, easy and fun two finger chords that sound awesome!
What`s in the book?
Learn 12 new super cool and easy to play two finger chords
Play 5 very practical, useful, but unique sounding shapes
Get to grips with lush sounding chord extensions that are a breeze to play. Sophisticated chords shouldn`t be hard!
Grab a free wall chart pdf to print out and reference helping you to master all 12 shapes
Be able to play complicated chords such as Gmin7add13. It doesn`t just look cool, it sounds great too.
Listen to the 4 audio examples showing you what you can do with these simple and fun chords.
Free Audio Examples
When you download Two Finger Awesome Chords you will also get a free download for the 4 audio examples in the book as yours to keep forever. There is nothing worse than buying a guitar book and not being able to hear the examples. With Two Finger Awesome Chords you can listen back to the high-quality recordings whenever you like.
Amazon Reader Review 

"Very good book"
Fingerstyle 101: Learn 8 Beautiful Fingerpicking Patterns That Every Guitarist Should Know
Most acoustic guitarists would love to be able to fingerpick well, but the truth is, their picking hand is often neglected. They pick with lots of tension and don`t spend nearly enough time learning the core picking patterns that many songs use.
In this book, you will learn 8 of the best fingerpicking patterns ever which you can and no doubt will use on a regular basis. There is a huge variety of patterns on show from folk style Travis picking, classical picking, modern pop picking with a groove in the style of Ed Sheeran and plenty more.
Not only that, you will learn the essentials of fingerpicking so you can get started on the right foot (or correct errors if you are struggling), you will learn how to create music for yourself and you will learn original arrangements that use the patterns.
All the fingerpicking patterns come with printable tab and audio.
Amazon Reader Review 

"I've played electric guitar for ten years, and after a thorough search, I found what I was looking for to add finger style playing to my set of skills. The book is deceptively simple but full of the basics needed to play guitar finger style.
The videos are made in a step by step and clear and precise way, much better than most guitar lessons videos you can find on YouTube… and you get to appreciate the Mancunian accent!
The exercises are entertaining and hard enough to make inroads if you work regularly on them.
Not only that, as I'm not a beginner, these exercises have given me enough inspiration to create better songs.This course is definitively making me, not only a better player but also a better composer and performer."
How To Play Barre Chords: The Simplified Guide For Chord Guitar Mastery
Do you struggle to play barre chords?
Does it frustrate you hearing constant buzzing every time you play an F chord?
Do you watch other guitarists in awe and think why can`t I do that?
Do you want some help to reduce the time it takes for you to master your changes between barre chords?
In my opinion of teaching countless students, mastering barre chords helps take you from being a beginner guitarist to an intermediate player. The amount of songs you will be able to play will skyrocket and the amount of styles you will be able to play will increase dramatically when you learn these chords.
Do not worry – `How To Play Barre Chords: The Simplified Guide For Chord Guitar Mastery` has the solution.
In the book you will learn:
The 4 Essential Barre Chord Shapes 4
1 Huge Mistake 99% of Guitarists Make With Barre Chords
4 Classic Songs That You Have To Use Barre Chords to Play
7 Powerful Quick Tips That Will Instantly Improve Your Barre Chords
The Barre Chord Formula
12 Superb Sounding Barre Chord Extensions
Amazon Reader Review 

"Straightforward, practical and understandable approach to playing barre chords. Turns out that some of these "tricks" I've been doing for years, others not so much. The advice is excellent and the suggested exercises are stellar. No guitarist worthy of the name can afford to be without it!"
Fearless Fingerstyle: A Step By Step Guide To Stunning, Confident, And Practical Fingerpicking Guitar Technique
If you enjoy fingerstyle guitar, then this book will do wonders for your playing. I often get asked what is the difference between this book and my other book – Fingerstyle 101.
Well, the answer is they are different, work together but are like two sides of a coin. Fingerstyle 101 is all about the picking hand, whereas Fearless Fingerstyle is all about the fretting hand – particularly the stunning techniques you will learn that can sky-rocket your fingerpicking playing.
They are like the yin and yang of fingerstyle. They work well separately but even better together.
In the book, you will learn about fretting techniques such as:
What legato techniques are, and how they add smoothness to your playing
How to properly perform hammer-ons and pulls offs, especially when playing chords
Why slides not only sound slick but are also your best friend when moving around the fretboard
How these simple little two finger chords will add an otherwise impossible sophistication to your playing
The 3 methods for essential fretting-hand technique
How to use partial chords for a highly melodic sound that anyone can play and use!
Specific steps on how to utilise double stops into your playing for stylish AND harmonic playing
The three key methods for essential melodic fingerpicking guitar
How to play scale runs like a real pro to add melody and speed
Specific steps on using 'mini-bass runs' and how they will add refinement to your playing
5 examples for each of the techniques, all taught in a simple, step-by-step manner
A separate printable tab sheet, featuring all the examples in this book
Downloads of all the audio examples for this book
Amazon Reader Review

"I've played my electric for about 2 years now, but I recently bought my first acoustic and I've always loved finger style from listening to fleet wood mac, Lindsey is a phenomenal guitarist. I never thought to try it out though. The fearless fingerstyle is a great instructional book. It's simple to understand and gives great advice for bettering your skills. I got the Guitar Grimoire a year ago and it confused me when it started talking about math to play scales. I recommend this book to anyone willing to put forth the effort in learning a beautiful way to play your guitar."
Go to Amazon to see more great reviews of these books….Unlike Amazon, if you buy directly from me all the eBooks are available in both pdf and Kindle formats.
And if that`s not enough!
Freebie #1 –  Fearless Fingerstyle – EXPANDED.
There are two versions of my latest ebook – Fearless Fingerstyle. There is the `Basic` version and the `Expanded` version.
Purchase the book as part of this bundle and you will get upgraded automatically to the Expanded version for FREE – and this usually costs $15.
In this version you will get the Showpiece Song which is one of my favourite pieces of music I have created, The Lost Chapter featuring the subject of harmonics and my guitar pro version of J.S. Bach`s Air on a G string which is a magical and fun piece to play which ties in with the techniques in the book.
All of the above comes with PDF, audio and Guitar Pro to make the learning process easier than ever.
Freebie #2 –  The Guitar Domination Cheat Sheet Pack
The Cheat Sheet Pack comes as a great addition to Guitarists Get Theory but ties in nicely with all the other books. This cheat sheet pack contains the `Key of G Major Cheat Sheet` (which ties in wonderfully with some of the core information within most of the books).
This also comes in both colour and a black printable version as well as your very own blank version.
The blank version is a very useful tool too. It is there so you can fill out other important key information which will help cement the valuable information in the book so it stays with you for the rest of your guitar playing life.
If you were to buy all these ebooks separately you would be spending nearly $70. Instead, you can get them all in one handy package for you $33.
100% Money-Back Guarantee!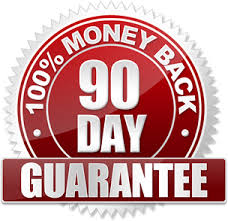 These 10 eBooks will absolutely, 100% positively change your guitar playing and if they don`t you have 90 days to get an instant, no questions asked refund.
You will get a 100 percent money-back guarantee if you don't feel these products have improved your whole guitar playing and helped you on the road to mastering these areas of the guitar.
If you don't enjoy big results within 90 days of using this product, I don't deserve to keep your money.
Simply ask for a full, no questions asked refund and you will do so, immediately. There will be no hard feelings whatsoever and to show this you will get a complimentary 30 min Skype lesson (worth $30) with me.
Get all these 10 eBooks with 50% off at just…
$33
 This is a saving of 50% which equates to $33 if you were to buy all these books separately from Amazon plus you get the added benefit of my 90-day money back guarantee and the books come in both PDF and Kindle formats which they don`t on Amazon.
Please note, you DON`T need a PayPal account to purchase. You CAN use a debit or credit card. 
Once purchased you will get lifetime access to the eBooks, so if you download them, and your PC/Kindle/Phone breaks, you do not have to worry, simply log in and you can download them again.