Are you a struggling or beginner guitarist aged 40+? If so, check out author Dan Thorpe's series of 7 books which now features a brand new guide on improving your technique
How to overcome the"seven stumbling blocks of learning guitar"  so you can play the songs you love and have more fun
"All the over-hyped YouTube videos teaching "guitar hacks" or "easy ways" are amusing," says this guitar teacher who has helped over 120 real-life students and many 1000s more around the world. 
If you want to make confident, steady and enjoyable progress to overcome the issues that plague most beginners, then I can help you with a clear plan to follow."

Did you know there are 7 big stumbling blocks that most beginner and struggling guitarists find trip them up?
If you have played for a while and feel frustrated, "too old to learn" or like you have no talent, read on because…
Although there is no magic solution…
After years of teaching over 120 real students who are probably just like you as you are reading this…
I have created 7 step by step books to help solve these 7 specific issues so…
You can make steady and methodical progress and have fun relaxing with the guitar, play your favourite songs, keep your brain sharp and healthy, and most of all…
Get back that excitement to pick up the guitar every day
To get to this point you have to get past what I call the "7 stumbling blocks of learning guitar".
Many students hit the brick wall with these 7 and then after years of toil, they end quitting while the guitar gathers dust in the attic along with their guitar playing dreams. 
Let me ask you, how many of these "seven stumbling blocks" do you struggle with to some degree? 
Slow chord changes

Poor and unrhythmic strumming

Not understanding music theory

Buzzing or painful barre chords

Having no plan

Sore fingers, tense playing, awkward playing (i.e. poor technique)

And nothing to guide you on the next step of your playing once the above is fixed
If you struggle with even just two or three of the above, you will be pleased to know…
A while back I created 7 exact step-by-step books so you can learn how to fix, solve, and improve these areas so…
You can make real progress just like my private students do (but at about 1% of the cost)…
These 7 books feature zero fluff, and are all laid out in short and easy to follow series of steps, specifically created to…
Help you on the road to
Fixing your guitar playing frustrations in a clear way
As soon as you begin using them
The books are powerful, but you need to know, they won't make you Clapton overnight (nothing will) and there is no magic bullet for your guitar playing.
The advice and lessons require regular practice, perseverance and an openness to new ideas and…
If you have tried learning on YouTube you may find these books a breath of fresh air because but the truth is, YouTube is NOT very good for beginners. (If you have played for years, it is a different story).
Most "teachers" on YouTube have never taught more than the odd lesson.
These lessons are all taken from nearly a decade of teaching guitar full time, to beginners a lot like you…
Especially if you are learning later on in life, lack confidence and need a simple and easy to follow plan. Each of these lessons have helped 120+ students systematically overcome these hurdles so they could play the songs they love. If you are in doubt, nothing in these books is random (unlike YouTube) because each book is laid out properly with structure and…
I even tell you the exact order to use the books in meaning…
You will know exactly which book to read and when to read it so…
The next few months and even years of your playing will be laid out for you, so you can see results and learn the songs you love the most.
Each book is available in both PDF and Mobi formats so you can read them on your PC, Mac, phone, tablet and Kindle.
If this sounds exciting, read on to find out more about each book and the specific plan I have created for you…
Improve your technique, chord changes, music theory, barre chords, strumming, + more and above all, your confidence and enjoyment…
Each of these books has been specifically created to improve, fix and nurture the 7 most frustrating areas that guitarists struggle with, in the early years of their playing. 
(

New)

– Essential Technique – 19 Step-By-Step Lessons

Strumming 101: How To Strum Your Guitar Like A Pro!

Lightning Fast Guitar Chord Changes: 6 steps to rapidly improve your speed 

How To Play Barre Chords: The Simplified Guide For Chord Guitar Mastery

Guitarists Get Theory: The really useful guide to music theory for guitarists

The Intermediate Guitar Guide: Learn Embellishments, Ear Training and More

The Straight Up, No B.S Guide To Becoming A Guitar Ninja In Just Six Months
OFFER ENDS AT MIDNIGHT FRIDAY 9TH OCTOBER
If you were to buy all these ebooks separately you would be spending well over $100.
Instead, you can get them all in one handy package for you $37.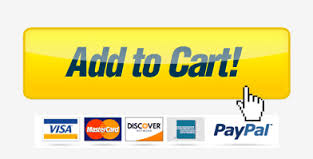 NO recurring or monthly fees
Just one easy payment and lifetime access
This offer is only for my email list of Guitar Domination subscribers and will end soon where…
The bundle will go up in price.
Note – if you have any of these books but would still like the bundle deal, email me at hq@guitardomination.net where I can offer alternative books or discounts – let me know – Dan
To find out more about each book and how they will help you, read on…
#1 – Essential Guitar Technique – 19 Step-By-Step Lessons on How to Play Guitar with Less Pain and More Enjoyment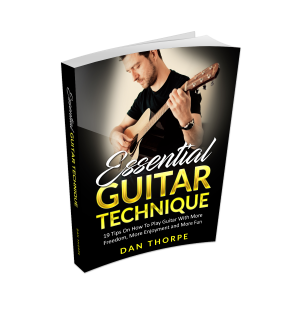 The biggest problem I see students struggle with is… basic technique. Poor fundamental technique means… slow progress, sore fingers, and music which, frankly, doesn't sound very musical.
Most beginners (and even many experienced players) struggle for far too long not knowing how to fix these issues but this book features 19 key lessons I have discovered over the years that have helped my students the most.
Learn the quickest way to prevent sore fingers in your fretting hand

How to quickly erase tension in your hands and make playing comfortable and actually enjoyable

Exactly how to stop the hair-raising experience of plucking the wrong strings once and for all

The one quick and simple strumming tip which will change the tone from harsh to pleasant.

The 2-minute "Air Claw" exercise to practise and improve your finger dexterity and flexibility,

without

your guitar.

Plus… How to develop your pinkie, stop your hand aching using the "Light thumb", the rarely taught method for up strumming, and more.
Each of the 19 simple tips are powerful on their own, but they become more powerful as you combine them, so you can get on making proper progress with your playing and putt the frustrating basic issues behind you.
Allan Ridley – 5 Stars

Thanks, Dan for another excellent book. Well done, my boy that's what I like to see unfortunately my guitar playing has stalled a little due to ill-health but  I am strumming my way back so thanks again for the book. Cheers
#2 – Strumming 101: How To Strum Your Guitar Like A Pro!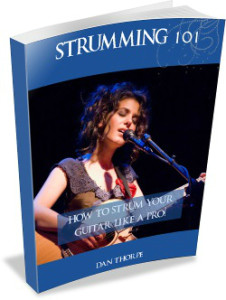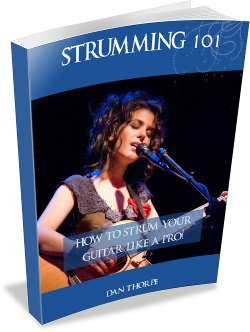 I remember teaching strumming Chris. He was confused to why he couldn't strum Brown Eyed Girl after lots of practice but his daughter could pick it up in minutes.
The issue was Chris' rhythm. We went to work building up his basic rhythm skills and teaching him one strum pattern at a time. This worked and he grew in confidence slowly building up a repertoire of 5 strum patterns to call on at will and jam with his daughter. 
These exact lessons are the main inspiration behind this book.
Discover 5 of the most useful strum patterns ever – allowing you to play the  1000s of classic songs.

Learn how to improve your strumming skills using a simple one-note rhythm exercise.

The simple secret to varying your strum patterns the pros such as Paul McCartney, Oasis, Joni Mitchell, Cat Stevens, and more, do.

Fully understand rhythm, sub-divisions and other important strumming terminology with this simple guide.

Work out strumming patterns for the songs you love by learning (many acoustic songs use just

two key patterns

).

Comes with easy to use chord charts, strumming diagrams, and audio tracks
Get this straight to the point no-nonsense book on the basics of strumming which so many struggle with… and learn the exact steps to help make you a confident strummer.
Amazon Reader Review
Brad Carroll – 5 Stars

"This is a GREAT book. Short, to the point, and covers one of the most essential techniques of playing guitar.  The author teaches the five most common strumming patterns, each with a variation. He provides a link to a sound file for every pattern/variation, which helps a ton.
This book really delivers on its promise. If you're on the fence, I feel like even one strumming pattern in here is worth the price. After all, how many would you get taught in a half-hour $20 lesson?"
#3 – Lightning Fast Chord Changes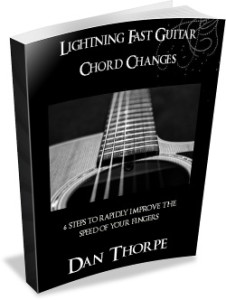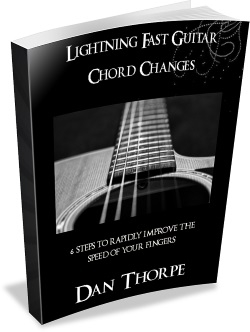 Did you know that slow and awkward chord changes are the reason why most beginner guitarists quit the guitar or end up hating it?
Probably.
"Well, enough of that!" I say. In this book, you will learn:
The 6 specific steps I have used to teach chord changes to well over 120 real students.

The pro secret chord changing tip that many guitarists don't know about until they stumble upon it (often years later)

How to use the "Lift-up", "Diamond", and "Blast" methods to quickly improve changes between tricky chords such as C and D.
The single most important change you can make to your thumb position for faster chord changes.

Plus, which chords you can "pivot" (meaning intentionally leaving a finger on while changing), 60-second-changes, the "Time Trial" and more…
This book will help you get the joy of playing the songs you love without frustrating pauses which ruin the flow. For many, this will be for the first time. It is possible for YOU too and Lightning Fast Chord Changes will help.
Amazon Reviewer – 5 Stars

"This is a fantastic resource for learning to make chord changes on the guitar. If you are struggling with making the pieces you play flow nicely because of the pause between those changes, "Lightning Fast Guitar Chord Changes" by Dan Thorpe will set you on your way to improvement!
The information is explained so well that it's easy to notice immediate improvement which kept me wanting to practice and did not feel like a chore. Worth the small investment! Highly Recommended!"
#4: How To Play Barre Chords: The Simplified Guide For Chord Guitar Mastery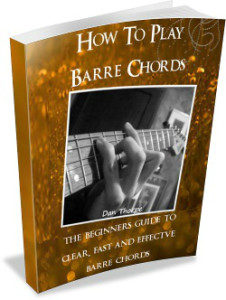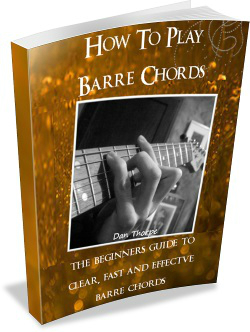 Does this sound like you… You try to learn barre chords – but they are hard, you give up, try again later, but still find them hard. Give up, start again… and on and on and…
The dreaded cycle continues.
If it frustrates you hearing constant buzzing every time you play an F barre chord or you finally want to get this important part of guitar playing sorted, without pain and frustration, this simple guide will help.
Learn the one mistake 99% of guitarists make with barre chords

The truth about the "big 4" barre chords shapes

Seven simple tips you can learn today to make real improvements to your barre chord technique.

Exact instructions on how you should position your barre finger for maximum success which even helps to reduce the barre chord playing pain by up to 90%.

Discover the "Barre Chord Formula" to help you work out any barre chord, any time.

12 superb sounding barre chord extensions that will help make your playing more vibrant, exciting and fun.
The bottom line is this – once you learn these four key barre chord shapes, with these specific techniques, and the extras on top…
The number of songs, styles and fun you can have and can play on guitar will increase more than with any other technique. 
Amazon Reader Review 
William S. Pepper – 5 Stars

"Straightforward, practical and understandable approach to playing barre chords. The advice is excellent and the suggested exercises are stellar. No guitarist worthy of the name can afford to be without it!"
#5: Guitarists Get Theory: music theory just for guitar players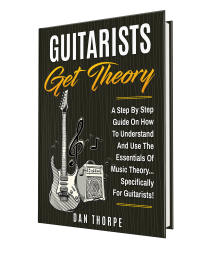 I spent so many hours wasting time reading bits and pieces of theory here and there. Most of it I forgot within days.
The main reason was that it was complicated, boring and there was no structure. Even the actual proper books I read on theory sent me to sleep faster than a mug of warm milk and an Enya record!
I made it my mission to write a simple, easy to digest and structured fun theory book.
Learn theory with a fun, light-hearted and simple to follow guide which

Combine theory and fretboard knowledge so you can find all the notes on the guitar in a clear and logical way.

Learn songs faster as you discover the 5 most important chord progressions ever.

Gain confidence as each chapter builds slowly upon the next (NO jumping ahead like most resources do).

All terminology is broken down, everything is shown in practical diagrams, and absolutely everything is clearly explained.

Build your knowledge of theory up from level 1 all the way up. 

Plus, learn about the beauty and the beast of "Consanace and Dissonance", get Q and As throughout, and even end of chapter quizzes to test you.

No need to read music to enjoy.
Yes – you can learn all of this by browsing on the net for hours, but why bother, as the net is full of random lessons and no structure which may leave you more confused than ever. Instead, you can learn it all in one simple to follow guide.
Amazon Reader Review 
Kindle Customer – 5 Stars

"I have been playing the guitar for years, but theory has always eluded me as a self-taught player. This book, in the span of an hour, has taught me more than I've learned in the last decade.
So simple, but so clear and easy to get. This is a must-read for anyone beginning the guitar. It also explains the "Nashville" style of session playing that uses Roman numerals for chord progressions, something I always struggled with. Better than a year of lessons."
#6 The Intermediate Guitar Guide: Learn Embellishments, Ear Training, The Ultimate Warm-Up and More…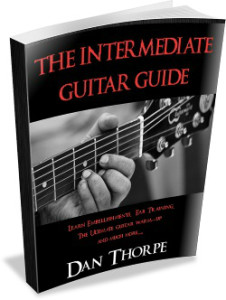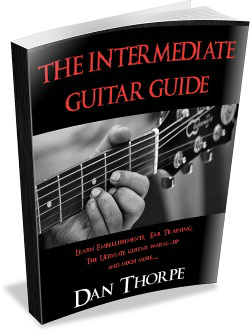 If you watch other guitarists in awe and think "I have played for years, but why can't I do that", and why am I stuck "playing the same old things", you need a plan to get to the next level.
But when turning yourself from a beginner to intermediate guitarist, how do you get there? Most guitarists just randomly aim to improve, but a specific plan is what you need and…that plan is here…
Train your ears like a pro with the "Aural Association Method"

Learn the highly sought after embellishment technique in the style of Jimi Hendrix, Jimmy Page, Red Hot Chili Peppers, and more.

Get the F.R.A.T practice routine which focuses on the important skills needed for intermediates. 

2 x short and medium-term practise routines to get you comfortable with the fretboard.

Learn The "Ultimate Warm-up" – a simple routine and technical exercise that will improve your guitar speed, dexterity, accuracy, and more…
You may watch others playing and think "how, just how do they do it" – I know I used to, but just imagine being that guitarist – the one that many are envious of. This book can help you take the right steps to get there…
Amazon Reader Review 
Lee – 5 Stars

"I was looking for a book for advice and to point me in the right direction and I found it. This book is fantastic. The author clearly has a wealth of knowledge and experience in regards to this instrument!
It is suitable for new or experienced guitarists and I would highly recommend it. 5 stars!"
#7 – The Straight Up, No B.S Guide To Becoming A Guitar Ninja In The Next Six Months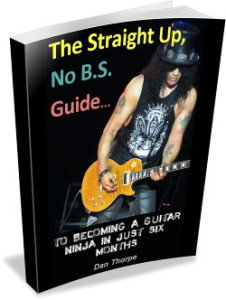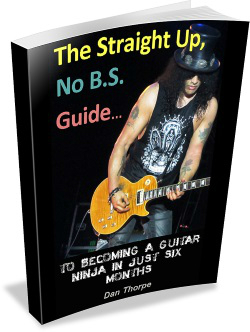 I bet, if you are a beginner there have been times you have sat watching video after video on YouTube or reading on random sites but after, still made no REAL progress. If so, you need a plan.
In this book, you will get the peace of mind knowing you have this plan which will help you in the following step-by-step ways:
Get a 7 step practice routine specifically designed for beginners.

Learn the 5 chords you should start off that will allow you to play countless songs 

A "fill in the blanks" 6-month plan you can easily personalise to suit your style.

3 simple tips to help your improve your aural skills which all beginners should do (involving a hilarious exercise from Joe Satriani).

Find out the essential gear and how to stop wasting time and money on unnecessary equipment.

Plus, get tips for staying motivated during the dark days, the two most useful finger dexterity exercises and more…
Amazon Reader Review 
Sandi – 5 Stars

"Very helpful loved it"
Make steady progress each day and feel the joy of making the music you love
You can get all of the above books today and start making progress on the "big 7" areas which hold back most guitarists which include most beginners, struggling beginner and early intermediates. 
If you are in doubt or think you are not good enough, realise you are not alone.
Many guitarists who I have taught have felt they were too old and most are like you in that they just want to play the songs they love, keep their brain sharp and have some relaxing fun.
That is why these books are written for people like you.
Believe in yourself, because, like my many students who succeeded, you can do it too, and with the same lessons they learnt.
Just imagine in a few months time, having rock-solid confidence in yourself where…
You can sit back and relax in the evening sun with birds chirping above while the music washes over you adding a peaceful, tranquillity to your day.
You play beautifully through a repertoire of the songs… The same songs which bring back special memories of your kids, growing up and your family. 
The vibrations of the strings resonate along your chest and in your heart as you play and you feel lost in this moment, not even caring if others are listening as you know the music you are playing sounds wonderful.
You feel proud of how far you have come…Now, you know truly belong as a guitarist…And this is how many of my students now feel.
And if that's not enough!
Order the Super eBook bundle today and you get all of the above 7 eBooks plus another two guides.
Two Finger Awesome Chords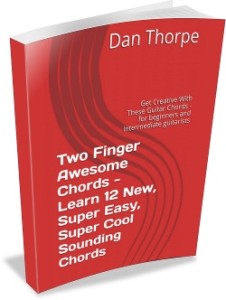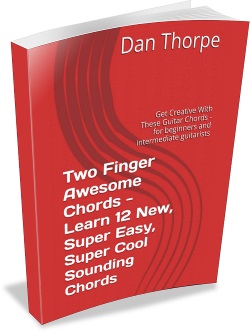 Two Finger Awesome Chords features audio, tab and plenty of useful tips on how to play simple, easy and fun two-finger chords that sound great for a bit of quick fun.
You will learn 12 new and easy to play two-finger chords, using 5 useful shapes that will give you lush sounding chord extensions that are a breeze to play. Sophisticated chords shouldn't be hard!
How To Get An Awesome Live Guitar Sound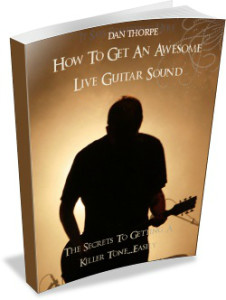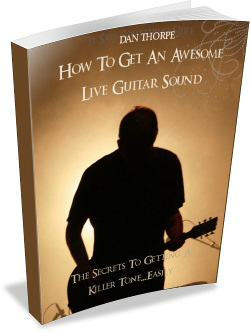 If I could show you a guaranteed way to get an awesome guitar tone, without spending much money and doing so with quick results, would you be interested?
Over your guitar playing lifetime, you could spend $10,000's of dollars trying to get the perfect tone. Many people do. You could also spend 1000s of hours of tweaking your tone. Now you don't need to, How To Get An Awesome Live Guitar Sound is a quick guide that will help you see instant, usable results with all the equipment you already have.
Get years worth of knowledge for the price of a 30-minute lesson
These digital books contain the same helpful advice I give my private students who pay me £1000s per year to get.
These books were for sale on Amazon BUT due to them upping their fees and ripping writers off, I removed them from there.
Now, they are only available for sale here on my site…
You have the choice, pay anywhere from $12 to $27 for each one of these books on their own or…
Get them together in this bundle where they complement each other and where combined, they are greater than the sum of their parts.
Like how four or five simple ingredients can be combined to create a mouth-watering meal in an Italian restaurant in the rolling hills of Tuscany…Or how each of the Avengers are strong on their own but are more powerful when in a team.
These books are designed the same way…
To be like a team of superheroes helping you in the vast Metropolis of your guitar playing.
100% Money-Back Guarantee!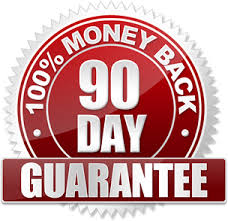 These digital books will absolutely, 100% positively change your guitar playing and if they don't you have 90 days to get an instant, no questions asked refund.
You will get a 100 per cent money-back guarantee if you don't feel these products have improved your whole guitar playing and helped you on the road to mastering these areas of the guitar.
If you don't enjoy big results within 90 days of using this product, I don't deserve to keep your money.
Simply ask for a full, no questions asked refund and you will do so, immediately. There will be no hard feelings whatsoever and to show this you will get a complimentary 30 min Skype lesson (worth $30) with me.
---
Frequently asked questions
"I have purchased one or more of the books before but want the bundle. Can you offer me a discount?"
Yes, simply email me telling me exactly what book or books your bought, and I will give you a coupon code with the Christ of these pro-rated discounted.
"I have your Strumming 101 book already. If I buy the bundle, can I swap this book for another?"
Yes, if you have any of the books in the bundle and would like to swap a book, simply let me know which you have and choose from these to add to the bundle.
Fingerstyle 101 (2nd edition)
In Focus: Learn 12 tips, tricks, licks and guitar lessons to become the ultimate guitar pro!
The Ultimate Guide to Strumming
Christmas Chords: How to Play 5 Classic Christmas Carols on Fingerstyle Guitar
"I suffer from arthritis and my fingers won't do want I want them to do. Will this help?"
Yes, Essential Guitar Technique will help you. This is the must-read book for all students and the one I encourage everyone to begin with. It will help relax your fingers, make them nimbler and give you more dexterity. Then, like the Empire state building, the other books can then build steadily on top of this strong and stable foundation.
"You are from the UK but charge in U.S. dollars. Why?"
Simply because over 75% of students are in the U.S. and the rest have a good understanding of how dollars convert to their own currency. It would be too complex to sell in every currency out there to cater to all my students in the four corners of the world.
"I need a plan with my playing. I'm fed up with watching random YouTube videos. Will this help?"
Absolutely, while YouTube is good for learning random songs, it's pretty terrible for learning guitar in a clear way and there is no path to follow.
These books are strategic, like a military operation, with the advice marching you along to a solid beat so you are prepared and confident at each step.
Better than that, I give you a plan for how best to use the books and in which order. 
Have a question yourself? 
Email me at hq@guitardomination.net and I will get back to you as soon as possible.
Get all these 7 eBooks with an 83% Discount
NO recurring or monthly fees
Just one easy payment and lifetime access with my 90-day money-back guarantee.
$37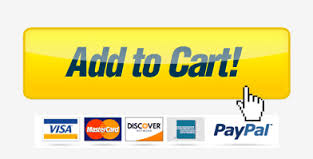 P.S. You DON'T need a PayPal account to purchase. You CAN use a debit or credit card.
Once purchased you will get lifetime access to the eBooks, so if you download them, and your PC/Kindle/Phone breaks, you do not have to worry, simply log in and you can download them again.
Remember, these are the seven specific stumbling blocks that most beginners struggle with.
How much would it be worth to you to fix these areas so you can make progress with your playing each and every day…
Allowing you to the songs you love and knowing you can keep progressing and having fun, just like you have probably always wanted to with the guitar