[tminus t="2015-12-20″ style="carbonite"/]
 Until Enrollment Closes!
 
Get Dan Thorpe`s Guitar Domination Beginner`s Masterclass Trilogy of courses today with over 44% off.
Does learning the guitar fill you with frustration?
Does the thought of picking up the guitar sometimes fill you with dread?
Have you ever thought "it shouldn`t be this damned hard?"
If you have answered yes to any of the above you have been learning the guitar the wrong way.
I`ll explain why.
You know what, most guitar teachers, gurus and fellow players tell you, you are supposed to:
"go through the pain barrier",
"have fingers so sore they feel like that are going to bleed"
OR worse…
"slog it out for at least 6 months".
I actually think that is hogwash.
The thing is, over 90% of the people like you, who have lifelong dreams to play the guitar get them crushed because of advice like this.
Being told to "slog it" will only make sure your progress is slow and frustrating.
For most people the progress is slow and uncomfortable that they give up the guitar, and their lifelong dreams of playing this wonderful instrument end up with their acoustic gathering dust in the attic.
"I`ll try again in a few months" is what they tell themselves.
The truth is, deep down they know they are kidding themselves.
They know the pain of trying to learn has been so hard that deep down they know it`s something they`ll never do again.
What a shame – especially when it`s been someone`s dream for 10,20 even 40 years.
They miss out on all the joy, happiness and elation that the guitar can bring to their lives.
Now, what if I told you there is way to learn the guitar with a smile on your face. You can learn the guitar with peace, joy and an excitement.
Over the many years, 140+ students and 10,000`s of hours of lessons taught I have developed, tweaked, tested and finally refined a way to make learning the guitar fun.
That system is the Guitar Domination Beginner`s Masterclass Trilogy.
Just like anything in life, when you have a system in place you can shortcut learning almost anything.
The course features three courses aimed specifically at beginner guitarists:
Strumming With Soul ($44.99)
Ninja Chord Changes ($44.99)
Rockstar 101 ($44.99)
I like to track stats.
I`m a little geeky like that.
Over the many years of teaching in person and over the internet I always, always ask students what their biggest frustrations are.
Everyone who has ever played guitar to a high standard has considered giving up at some point.
It is that hard to learn.
These biggest frustrations are the ones that could have stopped them playing altogether.
The chart below shows what these stats are from current students of mine and a recent survey I asked my subscribers to fill out.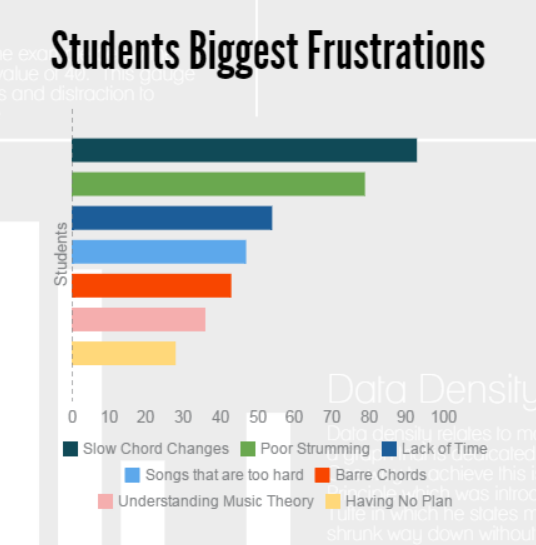 Some gave me a list of 4-5 frustrations, some just 1.
Here they are in chart form below.
As you can see more than 90% said chord changes were a huge frustration for them, just under 80% said poor strumming, and so on.
These stats haven`t changed much since I first asked my core group of 20 private students a few years ago.
These stats will never change.
These frustrations are a always going to be there for those trying to learn guitar,  especially those in TTYW (The Two Year Window).
Since teaching, I have always put a huge amount of focus on what students want to learn and more importantly, what they need help with.
That`s why I created the Trilogy.
They are the three courses that cover the most ground and help students jump the hurdle and frustrations of all those items in the chart.
Chord changes are something everybody struggles with.
Therefore I created Ninja Chord Changes.
A system I believe will still be used in 100 years time to help those learning.
Almost everybody struggles with strumming, and those that don`t still want to improve this area.
Therefore I created Strumming With Soul.
This is a system designed to help you understand, get the basics of, create solid foundations and build and beautiful house of strumming.
Again, the methods will still be relevant for as long as people still play guitar.
A lack of time, songs that are too hard, no plan, no idea about music theory, no idea where to go next, poor technique, sore fingers, frustration at where to find things to learn, frustration at not being able to play interesting yet simple things, frustration at everything being just too `damned hard`….
…are ALL things students filled out on the survey.
Enter Rockstar 101: Essential Guitar Skills For Beginners.
This is the 10 week plan that will help you master 10 different, fun, and very applicable little challenges over 10 weeks.
Each week comes with an action plan, so by the end of the week you can see real results and improvements with your playing.
By the end of the 10 weeks, you`ll be enjoying the guitar a lot more, a better guitarist and you`ll be able to play and understand many more things than you did previously.
Small steps in 10 weeks with big results.
Guitar Domination Beginner`s Masterclass Trilogy will improve your guitar playing. It`s a fun Trilogy of courses made for guitarists just like you
---
Don`t take my word for it though…
This is what the others say about Guitar Domination and my products including the courses in the Trilogy…
---
Want to know more about each of the three courses and how they will transform your guitar playing.
Read on…
---

Strumming With Soul
Strum the guitar with technique, passion and power
If you`re a guitarist who wants to strum like a pro, wants to learn more of the most popular strum patterns that you can use over and over again, or has trouble getting a clear, quality strum sound from the guitar…
`Strumming With Soul` has the solution.
STRUM More Naturally
PLAY with More Passion
GROOVE with Better Rhythm
LEARN More Songs 
Do you find that you:
Would love to play the most common strum patterns used in rock, pop, indie, ballad, country music, and more?
Lack a natural feel for rhythm?
Often hit unwanted strings when strumming?
Want to play guitar in the styles of Oasis, Johnny Cash, Green Day, The Red Hot Chili Peppers, The Beatles and more…
Have a sloppy, unprofessional strumming sound?
Want your strumming to have a lot more soul, passion and joy?
If so, then this course was made specifically for YOU.
Strumming With Soul contains over 30 HD videos and a bonus kindle and pdf eBook of in-depth proven, tried and tested methods that have been successfully used by guitarists all over the world.
In `Strumming With Soul`, you will learn the specific, step by step techniques that I have tried, tested and tweaked on over 100 students in person.
Get the basics mastered once and for all
You will learn the 6 fundamentals:
The essential fundamentals of strumming that most people neglect (and regret later)
The very common mistakes of strumming that are holding you back
A true, thorough understanding of rhythm – things such as whole, half, quarter, eighth, sixteenth notes – and most importantly how to play them in time
How to practice to a `click` or metronome so you will always be `in time` with yourself, the band or backing track – all of the time
What `power dynamics` are and how they are the simple secret that only the pro`s really use
The 8 basic strums that you can call upon for ANY situation
Once you have the fundamentals sorted it`s time to truly kick on and have a LOT of fun with the guitar.
It`s time to learn the core strumming patterns that most guitarists never really learn. The truth about strumming patterns is that many guitarists just wing it.
They listen to a song and try to replicate that strumming pattern. Experienced guitarists do this all the time.
What if I told you, we can leap frog these guitarists?
Well, now you can because in this section of the course you will learn some of the most popular strum patterns of all time that are used for the majority of music out there.
Leap frog even experienced guitarists
When you want to learn a song, all you will have to do, is listen for the strum pattern, and within about 3 seconds you will recognise it as one in this part of the course.
Once you know the chords, you can apply the strumming pattern and boom you are away, while all those experienced guitarists are kicking there heels in the background.
Here are just some of the powerful elements of the course.
Simple Strums That Sound Sophisticated
The 3 essential methods to proper fingerstyle strumming
The Must Know Super Flexible (and Super Common) Strums
Classic Bass Note Strums That Add Lots of Flavour and Power to Your Chords
What `swing` is and how to add it to your strumming
Contemporary 16th Note Strums That Will Impress Your Audience
4 very stylish swing strum patterns for a unique sound
Learn songs and riffs that use the strumming patterns taught in the course
and much more….
Enjoy the journey from beginner to intermediate guitar with your strumming. Even some so called pro`s don`t know how to strum like you will be able to at the end of the course.
In my opinion when most guitar teachers teach the guitar, they don`t spend nearly enough time teaching you the little things that make the instrument sound so good.
They show you the basics and move on. So much of what makes the guitar so special is the little things that no one really talks about.
This is never highlighted any more than when it comes to strumming.
Learn the subtleties that make ALL the difference
So much of strumming appears to be fairly simple – like Down, Up Down, 2 ups, etc but the difference between just doing that exactly as taught and doing that with a bit of thought, subtlety and better technique is huge.
It`s massive. There`s a big difference between a simple, stiff way of playing a typical strum pattern such as D,D,U,U,D U and my way.
The way I`ll show you.
So much of our passion as guitarists come from the strumming hand. Listen to the likes of Damian Rice and Ed Sheeran to hear what I mean. The fretting hand doesn`t do a lot apart from the basics most of the time. Eg. playing simple chord shapes.
The strumming hand is what takes these basics and makes you sound like a soulful, heartened guitar player who is bearing is his soul for the world to hear. You can just feel the passion, sorrow and love oozing out of these guitarists hands.
Learn how to apply the strum patterns you will learn in the course in REAL songs.
You will learn the songs and riffs from the likes of:
Van Morrison
The Beatles
Oasis
Red Hot Chili Peppers
Eagle Eye Cherry
Johnny Cash
and more..
That`s a great mix of artists.
Once you can play the strum patterns with ease you will find learning the songs and riffs from the above artists to be a piece of cake.
Your audience can`t fail to be impressed with the variety of songs, riffs and strum patterns you will have on show…and they are all songs they will recognise and most likely love.
One of my favourite quotes is:
"The fretting hand is th
e brain and the strumming hand is the soul" 
You may have heard me say this before, but that`s because it is so true. In strumming music 90% of the passion, power and emotion comes from the STRUMMING hand.
Make that work for you and your music will gain a vast amount of power that no other element can replicate.
Once you have purchased the course, you will not need to do anything else.
Within a few moments an email will be sent to you containing your very own private password which will give you full, lifetime access to the course.
It`s a simple case of bookmarking the course page. I have made the course simple in layout and structure so that even the most technophobic guitarists will find it a breeze to use.
The videos are all shot in High Definition and will playback on any pc, mac, phone, or device that has video capabilities.
Strum the guitar the proper way – with soul, passion and power!
---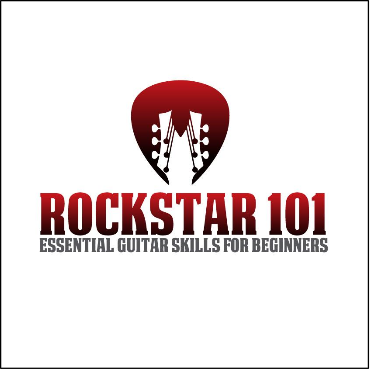 If you are short on time and high on desire then Rockstar 101: Essential Guitar Skills For Beginners is a great choice for you.
Instead of bombarding you with a lot of pointless and ineffective exercises that don`t improve your skills, you will have your next ten weeks worth of practice laid out for you.
Many of the skills taught in Rockstar 101 are easy to learn but highly effective and rarely taught. I call it SABR – Small Adjustments, Big Results.
I don`t care about teaching fluff or filler.
I only care about getting you from being a novice or guitarist or frustrated beginner to someone who can play songs, impress your audience and pick up the guitar with joy and anticipation.
If you feel like learning guitar is a chore and a hardship, then try these 10 weeks worth of simple solutions that most guitarists either never really learn or if they do it`s after working them out for themselves after many months or years of trial and error and searching on YouTube.
There`s some powerful techniques, tips and lessons in this series.
Be the end of this 10 week course you will know:
How to practice and play guitar with much more enjoyment and far less pain and frustration
Know 1 simple chord trick that will allow you to play many of the coolest and most popular songs ever
How to play the basics of fingerpicking guitar with 3 great picking patterns (and 3 classic songs)
The 3 must have accessories that will improve your guitar playing and make learning guitar 10 x easier
2 killer strum patterns that you can use for about 60% of songs on the radio
…all this and much more….
Here is a breakdown of what you will learn
The next 10 weeks of practice laid out for you
Introduction – Find out the 3 accessories that will save you weeks and maybe months of frustrations
Week 1 – Discover the 1 thing that completely destroys a beginner`s confidence and makes learning guitar, making chord changes and enjoying playing the guitar so much harder – most importantly you`ll discover how to avoid this issue like the plague!
Week 2 – Learn the 4 easy steps to faster chord changes! If chord changes frustrate you, you must take a look at these 4 steps. They will shave months off the struggle.
Week 3 – Master basic strumming technique with these 5 very powerful tips. Things such as which picks to use (hint, nylon work wonders), how to avoid strumming unwanted strings and more.
Week 4 – Attain what I believe is the most important strum pattern ever. Some people learn this, but play it wrong which is a big mistake. You`ll also learn a huge hit that everyone has heard which uses the strum pattern.
Week 5 – Play 3 of the coolest and most recognisable rock riffs ever. Simple to play, effective to show off with. Forget learning pointless warm-ups when starting out, riffs are the way to have fun while warming up.
Week 6 – Learn a super modern strum pattern, how to play it, and play it properly. Also, take on board a really simple tip that makes it lots easier to play. It sounds amazing, is used in loads of the hit songs by artists such as Oasis, Passenger, Bob Dylan, Ed Sheeran, Radiohead James Blunt and more….Also learn a song that uses it.
Week 7 – Discover the great chord trick that many guitarists stumble upon after years of playing, but now you`ll get a big head start. This trick is so simple, makes playing much easier, sounds very classy and is used in some of the biggest pop and rock songs of all time.
Week 8 – Become a fingerpicker. Fingerstyle guitar can be hard but sounds wonderful. Learn 3 superb patterns with 3 original pieces and learn 3 songs that use these patterns.
Week 9 – Understand the basics of music theory. Most people get confused for many years with proper theory. Here you will understand the chords in any key, how to play the all important Major scale, which chords work well together and more. This will all save you a ton of time from now on and for many years in the future.
Week 10 – Learn how to play percussive strumming. This very popular modern technique is broken down into a simple easy way to play. We then take a classic hit and apply the percussive strum to it creating a stylish modern version of this song that is both recognisable and impressive.
All in all, hopefully you have seen how this course will help you become a rounded and confident guitarist in a short space of time.
Become confident and competent 
You will become competent in all the essential areas of guitar from strumming, chord changes, strum patterns, fingerpicking, percussive playing, music theory, playing rock riffs and more.
Don`t forget, you will learn all of the above techniques while learning songs – real songs from old school classics to super modern songs.
By the end of the course, you`ll gain a lot more confidence with the guitar and will have a range of skills that most guitarists who have played for many years don`t have.
When you play to non-guitarists you`ll impress them with your skills and range of songs.
When you jam with other guitarists, you will awe them with your new found knowledge (and probably make them jealous).
All this feels good – really good.
I love it when students I teach tell me about how their partner or a friend is shocked and awed by their guitar playing.
The material I teach in this course is what I teach private students so I have seen the above happen lots of times.
Stun even experienced guitarists
One of my students, David (who has played guitar for less than a year) tells me how he jams with his brother regularly.
His brother has played for about 30 years and David tells me is very good indeed.
David says how his brother is often surprised the knowledge and ability that David has acquired in a short period.
He says he has learnt stuff that even his brother with over 30 years playing experience doesn`t know!
That makes me feel good as a teacher, and more importantly makes David feel good as a guitarist.
Another great thing about me having taught the materials in this course repeatedly is that I have tweaked and tested everything for maximum results.
I used to teach other stuff in my core training, but some things didn`t work as well, so I dropped them and replaced them with something else, and if that didn`t work, replaced them with something else.
I kept doing this until I found something that worked all the time, every time.
I still teach all these materials daily and will do so for a long time.
They work, that`s the reason why.
Learn quickly with scientifically proven methods
The materials in this course use a variety of mediums from video, audio, written materials and tests.
Science has proven that people learn best when using a variety of mediums such as the above.
That`s why there is a mix of video, audio and written materials – simply so you will pick up the information so much more quickly leaving you plenty more time to enjoy and apply all the cool stuff in the course.
Using a variety of mediums is like going to the gym and training your body in different ways.
If you spend ten weeks on a treadmill, you will not be getting anywhere near as much benefit as if you spend 10 weeks hitting the weight room, using the TRX gear, swimming in free water, and doing hill running.
That`s why Rockstar 101 is designed to hit your guitar training from many different angles.
Be prepared to learn a lot of useful and very practical things in the next 10 weeks.
If you do so you will become a much better guitarist for it and will impress others and more importantly yourself!
You get all of the above for less than the price I charge for a single lesson.
For just $44.99 you will get the complete skills to be a confident and very competent guitarist.
You will also have me on hand to answer ANY questions to anything in the course, and time.
You will get given a special email address that is my priority email address for students who purchase this course.
I`ll be sure to get back to you with a clear and concise answer to your query, any time.
---

Does it frustrate you trying to change from C to G?
Do you watch in awe as other guitarists strum your favourite songs "think why can`t I do that?"
Do you often think "Why can`t I still change between chords quickly even though I have played and practiced hard for months"?
We have all been there. Trying to get good at changing between chords can feel like banging your head against a brick wall and is the primary reason most guitarists give up the guitar and let it gather dust in the attic along with their guitar playing dreams.
Learn what my private students learn…at a fraction of the cost
The truth according to research is that over 92% of guitarists give up the guitar within the first 6 months of playing, and a large number of those cite "slow chord changes" or "stopping between chords" as the main reason for giving up.
That equals a lot of money, time, effort and guitar playing dreams gathering dust in the attic. You don`t have to be one of those people…What`s in the course…
Learn about and how to avoid the 7 deadly sins of chord changes
There are 7 very common mistakes nearly every beginner guitarists makes with chord changes. If you make just 1 or 2 of these mistakes you can get away with it, but it will probably hamper the speed of your chord changes. If you make more than a couple of these mistakes you will really be fighting an uphill battle with your guitar.
The aim is to get the guitar to work with us, and not against us. If you want to improve your chord changes for the rest of your guitar playing days, then you must avoid these 7 deadly sins of chord changes.
Learn the pro secrets that no one ever talks about 
After teaching over 120 different students I have come to realise that there are two super powerful pro secrets that once learnt will rapidly speed up your chord changes.
I call these:
The `Lift Off` Method
The `Never Stop Strumming` Method
It`s funny really, in time you may work these methods out for yourself (if you are determined enough to keep playing and get past this stage) but now you can learn them today, and save yourself plenty of trial and error.
What are the requirements?
You will need to know how to play some basic open chords and have access to a guitar capo.
What am I going to get from this course?
Over 12 lectures and 1.5 hours of content including a supplementary Ninja Chord Changes guide. This is your written companion to go along with the videos if you like to read as well as learn via video.
The ability to change chords on the guitar with much more freedom, speed and joy – with less effort
What is the target audience?
Guitarists who struggle to make basic, fluent chord changes with the open chords. This course is not for experienced guitarists looking to improve their barre chords.
Be free from the struggle and frustrations of slow and inaccurate chord changes 
The course is for anyone including ALL beginner electric and acoustic guitarists – I define a beginner guitarist as someone who has played for less than 1 year – who struggle with chords changes no matter how long you have been playing.
Learn through our videos, eBook and audio supplementary guides the powerful steps to help you master the `dark arts` of changing chords.
In less than 30 days if you follow the course and apply the knowledge on a regular basis you will notice effective, powerful improvements. Your chord changes and fingers will feel faster and you will be more relaxed allowing you to truly feel free with the guitar for the first time.
You will finally be able to play songs without those annoying little stops between chord changes.
Impress your friends with your fluency and new found guitar skills.
You will be free from the struggles and frustrations of changing chords and you can finally feel joy through the guitar
Get faster chord changes, Learn more songs, Improve your technique, Play with more joy
Take action now. Every moment you delay enrolling is valuable time and lot`s of joy with the guitar lost – enrol today.
And don`t forget, I'm here to help you!
---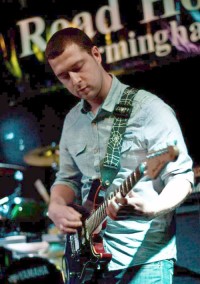 My name is Dan and I`m an experienced teacher who teaches electric guitar, acoustic guitar and ukulele.
I have been gigging and teaching for years and have played some of the best venues around the Midlands learning a huge amount along the way.
This knowledge took many years to acquire and these days I love to pass on this knowledge to my wonderful students. Playing guitar and teaching it is incredible and I am very lucky to be able to do both.
Over the years I have learnt what works and what doesn`t. Now, I want to share my best stuff with you. This is what my private students get in their weekly lessons and pay over £1000 per year for.
You will be getting all that knowledge, support and skills for a whole let less.
That`s enough of me talking about it. See what my private students below say…
---
David Tatman
Mike B
Josh B
---
6 EXCLUSIVE FREE BONUSES
Bonus 1 – `How To Practice Your Chord Changes For Maximum Success`.  
Do you ever find with the guitar that you have loads to work on and practice, but have no idea how to spend that valuable practice time?
Well, chord changes need practice, and proper practice. Here is your unique and all powerful guide on how to perfect them in the shortest time possible while having the reassurance that the time you are putting in is spent well!
Bonus 2 – Strum Like A Ninja 
Learn, play, slow down and adapt the materials from the `Strumming With Soul` course so you can master them using modern technology.
Use Guitar Pro (or the completely free Tux Guitar) to help you master the strum patterns and rhythm games and exercises from the course. 
Apply the things from the course here and you will be well on the way to becoming a master strummer.
Bonus 3 – Strumming With Soul eBook (in both pdf and kindle)
All the key elements of the course laid out in easy to digest and easy to apply eBook.
It goes well with the video lessons but is very powerful on its own.
Bonus 4 – `10 Common Chord Changes You Can Speed Up And Super Charge…Today`
The fastest way to get your fingers to move from one chord to another is by what I call the `Pivoting` method.
There are 10 very common chord changes that many guitarists really struggle to play quickly. This causes daily frustration which doesn`t really get better for months until (usually) most students eventually stumble across the `pivot` method.
Don`t wait months. Learn it and apply it today. You will make these 10 chord changes 1000`s per year in most case – they are that common.
Using this method will allow you play a song without the dreaded pause which as I`m sure you have found kills momentum and creates masses of frustration for most beginners.
You can know you can save lots of time, energy and frustration leaving certain fingers on the fretboard at all times, mastering the art of pivoting.
Go forth and conquer the `pivot` method and have fun writing and learning lots of songs.
You will learn songs quicker, sound better and impress yourself and others more when you learn about the art of `pivoting`.
You will also be able to stop worrying about the chord change and free yourself up to think about other aspects of your guitar playing, such as playing and singing or strumming, or just free yourself up to enjoy your guitar playing more.
Bonus 5 – Free Ninja Chord Changes eBook
Get yourself a free bonus eBook available in PDF formats so you can learn all about the techniques in this course in written format. This is useful for all you who love to read and travel a lot. On the train, plane or bus?
Grab your phone, laptop or Kindle and read through all of the techniques so when you are back to your guitar, you will know exactly what to do and will save time when going through and applying the video lessons.
You will find the essential techniques of pivoting, `capo for chords`, the spider, the mirror, the importance of the 3 p`s, the blast method, and much more explained in even more detail ensuring you will have zero problems understanding and applying the powerful techniques needed to change chords like a ninja.
Bonus 6 – Rockin` Strums 
This is a HD mini course on it`s own that I will be officially releasing later on in the year.
The cost of this course will be $19.99 and you get it 100% free with `Strumming With Soul`.
---
[easy-pricing-table id="825″]
The Guitar Doctor Feedback Sessions (Premium Only)
This consists of you uploading a short video (3 minutes is usually enough) of you playing a variety of pieces that you know.
I will watch the video intently, making notes and analysing your strong and weak areas.
I will then fill out my unique but highly powerful checklist to give you valuable, positive and very applicable feedback. I can usually diagnose in seconds what is happening to cause certain sounds or discomfort of a guitar player.
I`ll then give advice to fix these issues.
I`ll also highlight your strong areas so you can develop these even more.
Private Coaching 
This consists of  2 x 45 minute Skype lessons where I`ll take you through all the important techniques from the Trilogy and more.
These sessions are purely for you. They can be based purely around the Trilogy content or they can be on any topic you want. I`ll advise you here if you are unsure.
You will also get a personalised practice plan once we have finished the coaching and the Guitar Doctor feedback sessions.
This plan will be perfect for you and only you.
It will be based on all the information I will have learned about you and will allow to practice everyday with confidence and become a better guitarist in less time.
Yes, I want this very exclusive offer of all three courses and the six bonuses today at this discounted price
Premium
Pro
Standard
---
100% Money Back Guarantee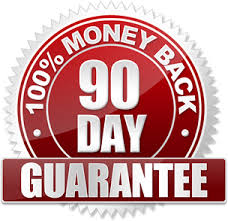 ---
Guitar Domination Beginner`s Masterclass Trilogy will absolutely, 100% positively change your guitar playing and if it doesn't you have 90 days to get an instant, no questions asked refund.
You will get a 100 percent money-back guarantee if you don't feel this product has improved your strumming and helped you on the road to mastering this area of the guitar.
If you:
don't feel comfortable with the fundamentals of strumming
aren't comfortable playing your sub-divisions
aren't comfortable playing the 8 essential strums
don't learn at least 10 songs in the next 90 days using these strum patterns
don't feel better with any of the aspects in this course, then I will refund you immediately
If you don't enjoy big results within 90 days of using this product, I don't deserve to keep your money.
Simply ask for a full, no questions asked refund and you will do so, immediately. There will be no hard feelings whatsoever and to show this you will get a complimentary 30 min Skype lesson (worth $30) with me.
[easy-pricing-table id="825″]