Important – Would you also like to get my Fingerstyle Collection course with over 70% off?
This is a one time offer
Usually $97
Today only $27
---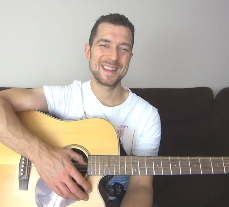 If you are tired of trying to play the same old songs but feel you are getting nowhere, the straightforward and easy to follow course, The Fingerstyle Collection, will help.
Learn the most beautiful fingerpicking songs and solo fingerstyle arrangements ever.
All taught in full with step-by-step video tuition plus complete tab and notation.
Here are just some of the songs…
Amazing Grace – a beautiful arrangement my students love

Spanish Romance (possibly the world`s most recognisable classical guitar piece)

Danny Boy (Londonderry Air) – a soulful emotive arrangement

J.S. Bach – Bourrée in E minor (heard in dozens of films/T.V.)

Happy Birthday – a lovely solo fingerstyle arrangement

Fur Elise (a classic piano piece played on guitar)

Yankee Doodle – a vintage tune for solo fingerstyle guitar
Plus… learn timeless arrangements of these two Christmas carols
Silent Night and We Wish You A Merry Christmas

(just like the rest, taught in HD video with full tab)
Coming soon…
Fingerstyle versions of House of the Rising Sun and Scarborough Fair (Simon and Garfunkel).
Discover "The Ultimate Fingerpickers Warm-up", "How To Improve your Dexterity in 30 Days", and learn "How to create your own stunning arrangements".
The Secrets to fingerpicking with proper technique – meaning no more pain, soreness or frustration.
You will get instant, lifetime access and start having more fingerpicking fun with your guitar today.

Get this video course at an exclusive early bird price.
Today only
$97
$27