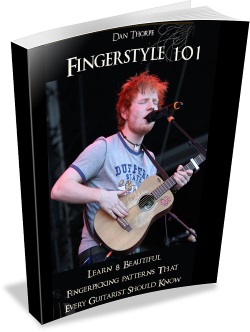 Fingerstyle 101: Learn 8 Beautiful Fingerpicking Patterns That Every Guitarist Should Know
There aren't many better sounds in the world than a guitar being fingerpicked.
It could be a battered old Takamine, a brand spanking new Fender electro acoustic or a boutique Ramirez nylon classical.
It doesn`t matter what guitar you have, with fingerpicking you can take the most simple of chords and turn them into elegant, joyous, awe-inspiring pieces of music that will stun and delight your audience.
Fingerpicking the guitar can and will bring you many years and decades of fun, joy and expression to your life.
Fingerstyle guitar is an essential and often VERY overlooked part of guitar playing.
Yet, it is Fingerpicking that separates the awesome guitarist from the sloppy sounding amateur.
Do you struggle to hear what fingerpicking patterns are used in a song?
Do you not know which fingers pluck which strings?
Do you not know any ACTUAL fingerpicking patterns to call on at will?
Are you aware of `Travis picking` but have no idea how to do it (this is must know picking stuff)
Do you find it frustrating watching others impress with just a handful of chords and some awesome fingerpicking skills?
If you answered YES to any of the above, you need to improve your fingerpicking guitar skills.
The solution for becoming a fingerstyle master is here…
Follow the simple steps in Fingerpicking 101 and impress your audience and reach the next level with your guitar playing quickly.
Learn the fingerpicking patterns used by artists such as:
Ed Sheeran, John Butler Trio, Damien Rice, Eddie Vedder, James Taylor, Merle Travis, Chet Atkins, Donovan, Ferdinando Carulli, Tommy Emmanuel, Paul Simon, Michael Hedges, John Renbourn, Kansas, Dixie Chicks, Bruno Mars, Philip Phillips, Crosby, Stills and Nash, Arlo Guthrie, The Beatles, Bob Dylan, Dan Fogelberg, Fernando Sor, John Denver, Bonnie Raitt, Peter, Paul and Mary, Kenny Loggins, Fleetwood Mac and many more….
Beginner fingerstyle guitarists often struggle with two main areas. One is chord changes and the other is what string to pick with what fingers. Get your fingerpicking patterns sorted today and your guitar playing will be so much more impressive and expressive.
Dan Thorpe makes the chord changes easy in this book by showing you:
Simple chord changes
Familiar chord changes (which are easier for you)
How to use drone notes
A unique style called `chord anchors`
and many more things which will allow you to FOCUS on the picking hand while still making beautiful music.
You don`t have to be an intermediate or so-called expert guitar player to enjoy and learn plenty from this book.
Whenever you listen to the radio, watch a guitarist or put on your favourite guitar songs, it's very often the fingerpicking guitar parts that stand out and grab our attention.
Throughout this eBook, you will see 8 examples of fingerstyle guitar playing.
They are 8 very different patterns. Don`t worry if you play acoustic, classical or electric guitar.
All the examples will work and sound great on ANY guitar as long as it is a guitar you are comfortable playing.
The chord progressions you will learn are some of my favourite and most beautiful patterns.
Each pattern comes with two examples.
All the chords in the book are shown in a simple, clear and easy to understand chord chart, along with tab for every example.
Some of the fingerpicking patterns and chord progressions are inspired by the likes of:
Ferdinando Carulli and Fernando Sor (classical)
Paul Simon and James Taylor (classic folk)
Ed Sheeran and John Butler Trio (modern pop)
With just a handful of chords and some interesting picking patterns you will wow your audience, impress your bandmates and most of all, get more pleasure and joy from playing the guitar.
You will enrich your own life and those of others around you.
Reviews and reader feedback
5 stars – "Another fantastic book by Dan Thorpe. The book is well structured and clear. It 'speaks' to you almost as if Dan is in front of you giving you a lesson. Each chapter flows logically into the next with a good mix of easy to understand theory and practice exercises to reinforce the theory. The building blocks soon start to stack up and you get visible results. Can't get enough of this author's books – they're great!." – Anne (Amazon customer)
5 stars-  "Excellent Book. Just what I was looking for, it has helped me so much in my quest to teach myself fingerstyle." – A.J. Wyse
5 stars – " I have fingerpicking books, including a Travis picking book but I must say that this is a terrific book for anyone interested in this style of guitar playing. I didn't know what to expect from this but took a chance at the price and am glad i did so. It is a bargain and I heartily recommend it." – Scourge (Amazon customer)
5 stars –Very happy with purchase (Amazon customer)
5 stars – "Great little book to get you started on fingerpicking." – D.H. Hobson
 ***No Questions asked 90 day 100% Money Back Guarantee***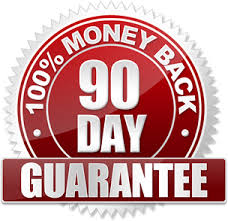 Buy Fingerstyle 101: Learn 8 Beautiful Fingerpicking Patterns That Every Guitarist Should Know and if you are in any way dissatisfied once you have read the book, I will refund all of your money, immediately, no questions asked.
I have no problem offering this kind of guarantee. Why? The techniques I use to teach guitar work repeatedly for countless students of my own either in direct one to one lessons, group lessons or the students who have studied my eBooks.  I know these techniques work. They'll work for you too.
Because of this guarantee, there is no risk to you ordering this right now.
$15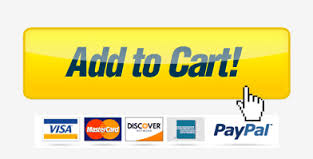 (Please note, you do not need a Paypal account to purchase this product).