"You won`t need another course, book or guitar teacher again. It`s all here, mini-courses, great songs, advice and support" – Mike. P
---
"Guitar Tuition is Broken… but there is a solution!"
"9/10 beginner and intermediate guitarists are stuck, frustrated or totally lost with their guitar playing. The reason is simple – they are taught badly wrong and are left to "work it out" for themselves which equals years of wasted effort.
If you are one of these, please know, there is an answer to your woes. You can now learn how to shave years off your playing, have 10x more fun, learn the most beautiful songs, all taught in a simple way and fix your most frustrating mistakes – all in one easy place".
From the studio of guitar teacher, Dan Thorpe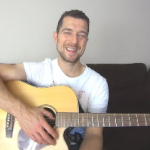 Hi, I`m Dan Thorpe, author of 11 books and 5 courses with dozens of five-star ratings on Amazon and Udemy, and over 1 million YouTube views.
I want to tell you about my revamped programme which will change the way you play guitar for good.
It comes with the only content you will EVER need to become the fingerpicking and strumming acoustic guitarist you want to be, some unique perks – AND it comes with one of my five star rated books (you choose which) delivered to your door for free – more on this later.
First, let`s talk about the "big issue".
If you have ever felt the frustration of trying to learn and improve on guitar, getting stuck after a few years of playing or NOT feeling like a "proper" guitarist, then you need to read this.
If you feel that most of the time you play for a bit and then put the guitar down feeling frustrated that you`re stuck with the same basic chords, ideas, rhythms or fingerpicking and you can't yet play what you hear in your head, this will be important.
I have a student called Chris, who at 60 started learning guitar, and went through absolute hell trying to succeed
Chris had waited until he was in his early sixties when he retired and had the time to finally pick up the guitar.
When we first met, he said to me that he thought "guitar tuition is broken" and I agreed with him then and still do now. I`ll explain why.
In the first lesson with Chris, when there was sweat dripping from his brow, and pain etched all over his face as he tried to force his fingers through a hardly recognisable version of "Brown Eyed Girl"…
…it was plain to see he cared and his dream of being a decent guitarist meant a lot to him.
He never wanted to be on stage rocking out Wembley stadium like Queen, he just wanted to play for himself, (and maybe jam a little with his kids and grandkids) and play the songs he loves and grew up listening to.
Sadly, he was an utterly frustrated 60-year-old beginner who should have just been having fun – not hating the guitar!
Chris should NOT have been playing in pain, he should NOT have been frustrated and he should NOT have felt like he "shouldn`t have bothered learning guitar in the first place".
He learnt from a real tutor who an old jazz maestro, and although he was a great player, he was an awful teacher from what Chris told me.
There was little instruction and zero advice on playing the pieces taught
Nothing at all taught on how to use good technique
No help and support when the going got tough
Zero advice on using good practice methods
Little guidance apart from "keep going, you`ll get there" (this is lazy advice btw)
All of the above is common and massively frustrating for beginners and intermediates.
Why is this the case?
I`ll tell you why, because Chris was right, guitar tuition in person and online is indeed broken. Chris` journey will show you why…
…but more importantly, it will help you remedy this so you can be the guitarist you have dream of being.
99% of guitar "teachers" both online and offline will NOT give you the help you need
Most guitar teachers and nearly every single tuition video I see on YouTube, NEVER talks about fundamental technique – things such as playing with a light touch, being relaxed, not feeling like guitar playing is a workout, etc.
This is why chord changes are slow, guitar playing is hard, and most people give up.
YouTube isn`t great unless you can already play and even then it is full of random videos, lessons with no follow ups, no structure, no teacher to communicate with and get essential advice, and it is full of annoying ads.
Frustrating? For sure.
Chris tried both the teacher and YouTube method but neither worked.
To say he was very disillusioned by the thought of learning guitar and continuing, is an understatement. He sounded like he would rather be tied up by his guitar strings while you blasted the Spice Girls music in his ears!
I felt his pain as I`m sure you can.
Rightly so – if this was my teacher I would have likely given up.
All those years fantasising about playing when he was a young man with a family to feed.
All those years as a teenager listening to his favourite Beatles and Stones records on the jukebox dreaming of one day being able to pick up and fingerpick the guitar.
His technique was awful, he was pressing too hard, playing with bad posture, battling with the guitar, he lacked a massive amount of confidence, he had no complete songs and was he learning a repertoire that was unsuitable.
Does this sound remotely familiar to you?
There were major problems with his playing, but Chris had literally no idea about what was wrong.
8 months after starting, Chris was ready to give up… for good.
With the last act of a desperate man, he picked up the Batphone and called me for lessons.
I honestly believe that was one of the best decisions he could have made for himself, for me and for you too.
Why?
Simply because:
For Him – Together we revolutionised his playing!
For Me – From teaching Chris, I learnt a huge amount of what it takes to help frustrated guitarists succeed!
For You – You can learn from my experience that makes me one of the most knowledgeable guitar tutors around, so you can be the best guitarist you can be too!
Even if you are good with the basics, you have probably hit a brick wall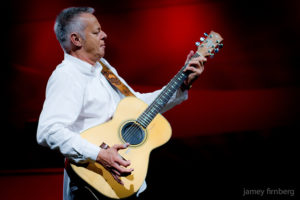 As well as the struggling beginner, there is another type of guitarist out there, and one student who suffered from this badly.
His name is Paul, and he was the "early intermediate" guitarist who hit a brick wall and got very stuck.
Unlike Chris, when I first taught him, he could play songs well, sounded professional and had a good handle of the basics but there were underlying issues too…
If you are like Paul was, you will know all about it as you have probably played for at least a few years and can play through some songs pretty well, but there are some big holes in your playing.
Worst of all, you don`t know where these holes in your playing are, you just know you are stuck, constantly trying to fix the holes in a leaky boat, losing motivation and you can`t see where the light is at the end of the tunnel.
You may be a bit bored, feel like you have lots of bits and pieces and need some clear guidance.
This sort of student is common and many guitarists who don`t play with others in bands or jam on a regular occasion reach this frustrating point in their playing.
If you have ever felt like:
You don`t know what to learn next
You are bored of the songs you already know
You don`t know where your playing is stuck
You don`t know how to improve or what to learn next
You are fed up of wasting time looking on the internet for answers
Your songs still don`t sound much like actual music or the original song
Everything you play seems to be very awkward
Your overall playing just doesn`t sound right and you don`t have many songs you can play all the way through
You practise for an hour or more every night but things still aren`t right
You are not sure if you are practising properly or what the issues holding you back are
Your playing is full of buzzing, mistakes, errors and frustration
Your fingers are sore or you feel pain or discomfort when playing
When you play you feel stuck and unsure of what to do next
Your motivation and timing are off
You feel you have hit a brick wall
If you have ever felt anything like the above, I want you to know, just like Paul and just like Chris, you too can succeed and…
If you struggle, play with pain or discomfort and want to FINALLY become the guitarist you dream of being, there is a solution
Together, with hard work, perseverance and patience we made big improvements with Chris and Paul`s playing.
Chris learned how to fix his technique, play with confidence, play pieces that he loved and that suited his skill level.
Paul got to reach new heights and get a real excitement and buzz for the guitar again.
The things I learned in the first few months of teaching both Chris and Paul I will never forget.
These are the things I want you to learn too.
This includes you being able to play:
With complete confidence

With joy and a smile on your face

With great technique
And be able to develop consistently and daily
Using proper practice methods
Develop each and every day and not get stuck or bored again
Songs that you love
Songs you may never have thought about playing but will blow you away

And become a rounded and complete guitarist comfortable in many situations

With the confidence to play when people are around, losing that "shy and embarrassed" feeling for good
Just like Chris and Paul, you can have all this, and I want to help you get it no matter what your history with the guitar is.
If Chris can do it and become a superb player who loves every moment with the guitar, I 100% know you can do so too. He mastered Brown Eyed Girl and now plays it with some silky smooth embellishments and even sings along to it.
If Paul can go from being a good guitarist, but bored and frustrated, close to giving up the guitar, to becoming a super invigorated, excited and happy guitarist, eager to jam every day, then you can do so too…
Introducing the Elite Guitarist Inner Circle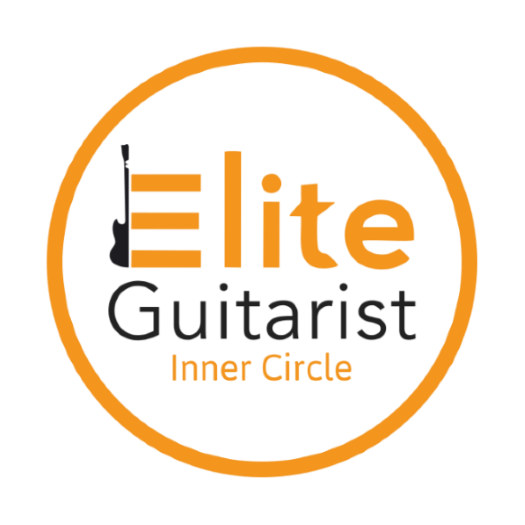 Including over 40 beautiful fingerpicking songs, 40 instantly recognisable strumming songs, the time-saving "quick wins" section, direct coaching and support, technique fixers and improvers and much more + new lessons every month

As I taught Chris, and many of the other frustrated students as mentioned above, I developed many powerful methods, and these methods are what I want you to learn.
I call this the Elite Guitarist Inner Circle and I want to introduce you to it so you can reap the benefits of my experience with these two students and over 100 more…
…So you can become the guitarist you dream of being – just like Chris and the other more experienced players.
As a member of the Inner Circle, you aren't just buying an online course or getting something you can find on the internet. You are getting a massive amount more.
You are getting me, an RGT qualified tutor, who has taught over 130 students from scratch and the benefit of my 10,000+ hours of teaching the guitar
If you would like to increase your guitar playing skills, experience more joy playing the guitar, learn lots of great songs taught in a simple yet fun way, AND get monthly coaching, read on because…
For a small monthly fee, you will get the best lessons on the internet every month and coaching directly from me.
Discover how to play stunning handpicked songs, learn the key "secret" techniques to becoming a more confident guitarist, and get direct support from an expert guitar teacher.
Get personalised individual coaching, learn the most stunning songs, the best techniques, get over 160 powerful lessons and much much more…
How does it work?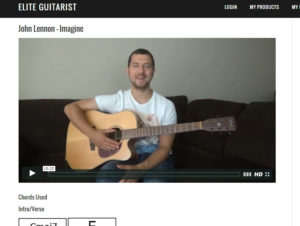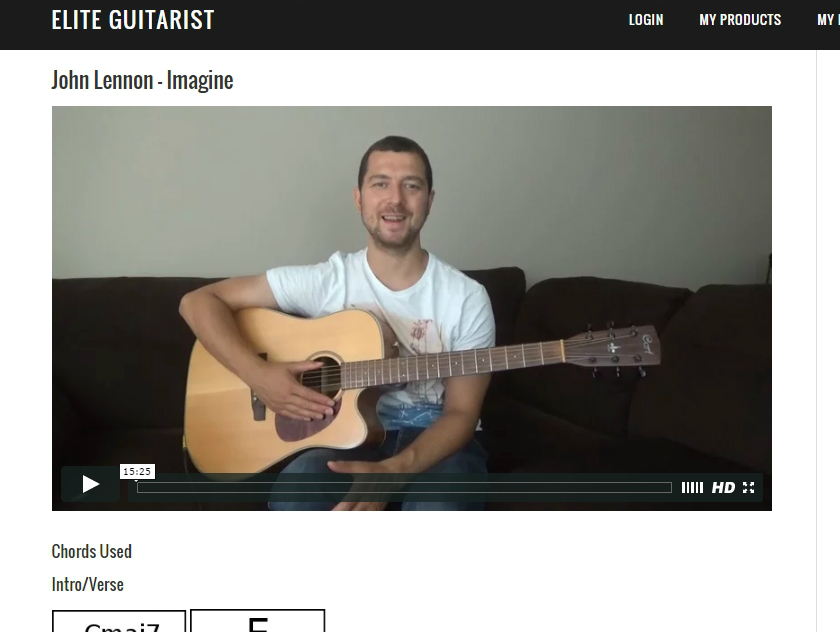 The Elite Guitarist Inner Circle is a monthly subscription programme which costs a fraction of the price of one-to-one lessons but with many more benefits.
You can cancel whenever you want, and there is no commitment. You can leave anytime and you will be refunded any money not used.
All content in the Elite Guitarist Inner Circle (or EGIC for short) is focused on four different areas:
You will learn the most exciting and fun fingerpicking and strumming songs (1 x new fingerpicking and 1 x new strumming song per month)
Get instant access to ALL past video lessons which is over 160 video lessons over 3 years – worth $1554
Learn my unique methods for improving technique to make what you know and what you learn sound better and easier to play – these ideas are rarely taught elsewhere
Get personal coaching to aid you through troubled areas
Who is the Elite Guitarist Inner Circle for?
The Elite Guitarist Inner Circle is aimed at those who love playing acoustic guitar and enjoy classic songs.
Most of the songs we do are from the 60s and 70s with some more modern songs thrown in too (as long as they are great songs, that is!)
If:
You DO want to learn classic songs which will give you many hours of joy
You DO want to learn only tried and tested techniques that have been proven to work taking away your frustration
You DO want to learn the best fingerpicking songs which will give you loads of fun, pleasure and moments to cherish
…then keep on reading because this is just for you.
Do you want a simple and straightforward way to learn guitar? A tried and tested method that you will love…
I want you to watch the following video to get a quick idea of what you can achieve with your playing.
This is not me talking but playing.
I like to let the music do the talking.
Watch it, and hopefully, you will be inspired to achieve some amazing things with your guitar playing this year!
Get over 160 of my best guitar lessons and my tuition for a fraction of the cost of private lessons
The Elite Guitarist Inner Circle programme will show you, step-by-step, how to become the guitarist you dream of being.
In the programme, you will learn what I taught Chris and Paul and so much more.
It is the best of both worlds – the benefits of one-to-one tuition and the best of the internet.
You'll learn ALL the things I teach my private students, but at a fraction of the cost.
You`ll get all the best lessons you could imagine, all taught by me in a step-by-step way, and have easy access to them in an organised and logical manner.
There are good websites out there, such as Jamplay and Guitar Tricks, but they are just full of videos and they do little for the confused guitarist or the one who just needs a bit of direct support at a low cost.
You can get a private guitar teacher, but it is expensive.
I charge the equivalent of $95 per hour and if a student has 4 lessons per month – that equates to nearly $400 per month which over a year is a lot of money – over $4800.
This is why the Elite Guitarist Inner Circle is the best of both worlds, combining affordability with quality.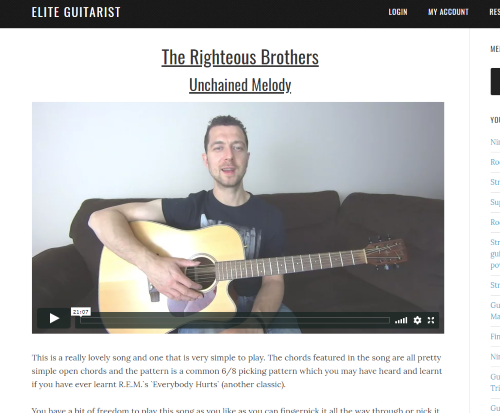 Get new lessons every month, plus get access to over 40 months' worth of previous lessons for free (RRP $1554)
As an Inner Circle member, you will be able to log in and view all the videos and materials anytime, anywhere.
In the Inner Circle, you will:
Learn

everything the proper way

with my highly rated step-by-step, and simple to learn approach.
Learn specific techniques which will solve your issues and make you a better guitarist and musician today and in the long run.
Learn how to play more joyfully, with better understanding and confidence.
Increase the amount of useful and relevant knowledge you have, saving you a lot of time (no pointless filler exercises here at all!)
Learn the most stunning spine-tingling songs to impress yourself and your audiences with. Imagine you had a repertoire of amazing classic fingerpicking songs to play, and you had the confidence and technique to play them. Imagine how great this would be and how great this would make you feel.
Become sexier than the average guitarist (I'm only half-joking as the truth is, guitar players who are skilful at what they do are indeed sexier, and we all know it deep down!)
Learn fun, practical and really helpful things in five minutes in the "Quick wins" section
Get real support from me on any guitar related matter. That means no more hunting about on the internet for hours on end, trying to find the answers to questions you might have, or suffering without any guidance. We all need help and advice sometimes.
"Hello Dan, I probably am just another in a long line of students that simply want to say thank you"
This is just one of the many happy emails I have gotten from students.
This is what Greg said in an email to me recently:
"Hello Dan,
I probably am just another in a long line of students that simply want to say thank you.
I am 55 and have wanted to learn the guitar for years and years. I started approximately a year ago and have kept up with my lessons, as far as theory and scales go, but these simple chord changes have kept me from 'playing' the guitar.
I was frustrated and my instructor was probably more frustrated.
Since joining, I can now say that I am improving because you have somehow just put it all together for me.
I now see that there is daylight at the end of this long dark tunnel of doubt I have been strumming down.
I am now changing G, C, and D and I really can't believe it is finally happening. I was going to quit but these basic chord changes have been killing me.
I simply want to say thank you so…Thank you."
Warm Regards,
Greg LaFave

Within days you can learn the greatest guitar songs from The Beatles, to Bob Dylan, to Pink Floyd, to Eric Clapton
I don`t just teach songs but I teach the proper techniques too – those that will assist you in playing these songs better, all the while improving your all-round guitar playing.
The Inner Circle is specifically designed mainly for those who play acoustic who either love to play classic songs or really want to learn them.
All the songs are arranged in order of skill level taking the guesswork out of it for you.
Here is a list of all previous songs which you will get instant access to.
Latest Song – Simon and Garfunkel – The Sound Of Silence (solo fingerstyle)
Level 1
The Righteous Brothers – Unchained Melody
Marvin Berry and The Starlighters – Earth Angel
Maroon 5 – She Will Be Loved
Air Supply – All Out of Love
Johnny Cash – Hurt
Ben Harper – Waiting On An Angel
The Moody Blues – Nights In White Satin
Level 2
Elvis Presley – Can`t Help Falling in Love (solo fingerstyle)
Gary Jules and Michael Andrews/Tears For Fears – Mad World (solo fingerstyle)
Red Hot Chilli Peppers – Scar Tissue
John Lennon – Imagine
Milos Karadaglic – Spanish Romance (Part 1)
Fleetwood Mac – Landslide
Neil Young – Ohio
The Animals – House of the Rising Sun
Elvis Presley – Always On My Mind
Lou Reed – Perfect Day
Level 3
The Beatles – Here Comes The Sun
Pearl Jam – Just Breathe
J.S. Bach – Toccata and Fugue
Coldplay – Clocks
Plain White T`s – Hey There Delilah
Pink Floyd – Is There Anybody Out There?
Ludwig van Beethoven – Für Elise
Ben E. King – Stand by Me (Solo fingerstyle)
Level 4
Adele – Someone Like You
Simon & Garfunkel – April Come She Will
Nino Rota – The Godfather theme,  "Speak Softly, Love" (solo fingerstyle)
John Williams – The Imperial March (Darth Vader`s Theme) (solo fingerstyle)
Classics IV – Spooky
Kansas – Dust in the Wind
Level 5
Led Zeppelin – Babe, I`m Gonna Leave You
Milos Karadaglic – Spanish Romance – (Part 2)
David Bowie – Ziggy Stardust (solo)
The Police – Every Breath You Take (solo fingerstyle)
The Beatles – Let It Be (solo fingerstyle)
Eric Clapton – Wonderful Tonight
Sting – Shape Of My Heart
+ More stunning new songs every month!
The above are just the fingerpicking songs, don`t forget there are over 40 of the most fun, recognisable and exciting strumming songs to learn too, all organised in levels of difficulty – also with a new one each month too!
Let`s Play A Game – Name That Classic Fingerpicking Tune
I want you to watch the following video to get a quick idea of what you can achieve with your playing.
This is not me talking but playing.
I like to let the music do the talking.
Watch it, close your eyes and guess the song.
Hopefully, you will be inspired to achieve some amazing things with your guitar playing this year!
Note: the song title will pop up so close your eyes!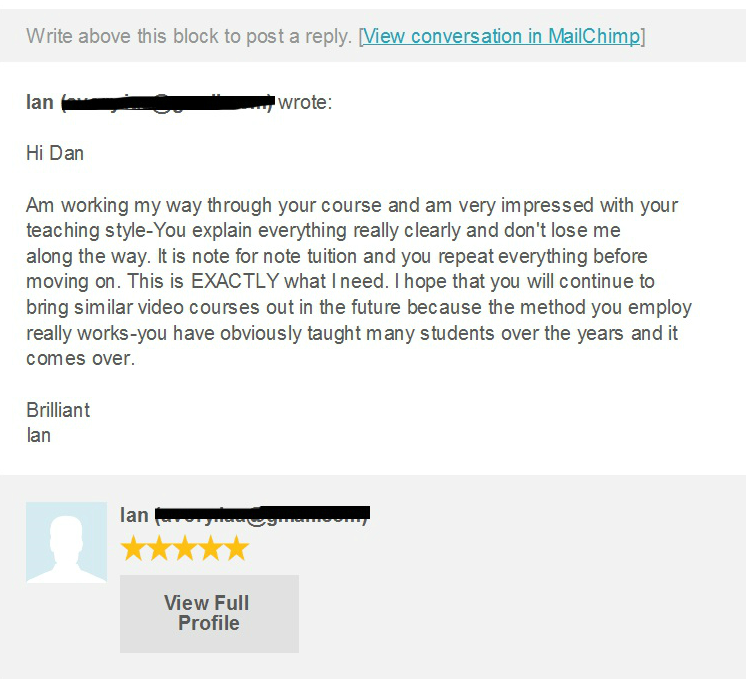 What exactly is in the Inner Circle???
Below is a detailed description of everything you will get in the Inner Circle.
Access to 160+ past Elite Guitarist Inner Circle Videos and Lessons + NEW lessons each month
This includes 160+ lessons and more every month which you can access anytime. (worth $1554)
Every month there are six new features/lessons.
On the first of the month, there is a brand new:
Fingerpicking song
Strum-along classic
A New "In-Focus" Mini Course Lesson
Riff of the month
Monthly challenge
Newsletter
Coaching Day
2 x brand new song videos per month 
Every month, you get to learn 2 beautiful and memorable songs on the guitar in video format and each song will be a classic that won't require blood, sweat, and tears to learn.
Each month features:
1 x fingerpicking arrangement (with step-by-step by video and tab)
1 x strum-along gem (taught in video in a super simple way)
The main thing will be that the songs are fun, sound great on guitar, and are true classics.
I always make sure that I am 100% certain that I play and teach the song correctly before I hit the record button. Tab and YouTube are unfortunately often wrong or teach you how to play the song correctly but in a harder way than need be.
`In Focus` Mini Course Lessons (worth $27)
Each month you'll get a brand new lesson in one of my mini courses (plus all the previous ones too) and learn something that will help fix your guitar playing issues and make you enjoy the guitar even more.
I always say:
It's no good learning just songs
It's no good learning pointless techniques
Instead, learn real songs AND practical, useful techniques.
These techniques will also help you learn more songs faster and will help to erase a lot of your frustrations as they solve the most common issues for guitarists.
These are just two of the many quotes about some of the 'In Focus' lessons from students…


The Dan Thorpe email coaching day (worth $47)
One day per month you'll be able to email me and ask me any questions you like. I'll answer them in as much detail as possible using ALL my resources.
One of the reasons my lessons work so well is the coaching aspect. The teacher is a mentor, friend, and coach as well as a provider of skills. I'm ALL of the above and I'll be your motivator as well.
One thing you can be sure about is that I'll help you out with ANY guitar or music related subject.
The Quick wins
This section features the following things which only take a few minutes to read and digest…
Riff of the Month –When you want to play something quick, easy, fun and instantly recognisable, riffs are great fun. Each riff is a classic, is simple to play and is memorable and they are a great way to have more fun on the guitar, are great for warm-ups and are fun party pieces to show off with!
Inner Circle Newsletter – Each month, you'll get a downloadable newsletter with reader questions and feedback. In five minutes reading time, you'll be able to see what questions others in similar situations to you are asking, what they struggle with, and what they succeed at so you can succeed too.
Monthly Challenge – Each month, I set you a little challenge for you to track and measure your improvements. If you like to be competitive, you will love this!

"Hi Dan, your Elite section is amazing! Keep up the astonishing work, you're the best :)"
Antonio
Your guitar playing future can be so much more fun, and it can start right now!!!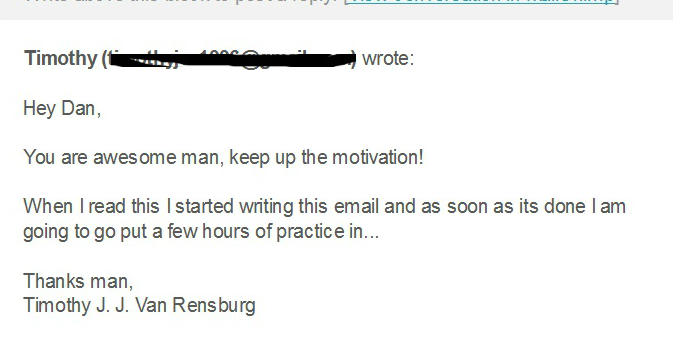 That`s not all…Get these bonuses…
Plus, get an awesome FREE gift sent to your door at zero cost to you (worth upto $17)
Join today, and you will get a free copy of either of my Amazon best-selling books, Fearless Fingerstyle OR Guitarists Get Theory, sent to your door 100% free.
Would you like Fearless Fingerstyle or Guitarists Get Theory delivered to your door for FREE?
Choose and either will be yours.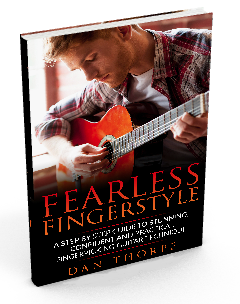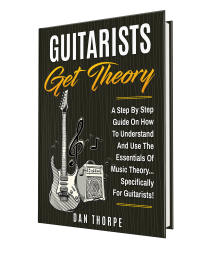 This is a gift from me and one that you will love.
Both Fearless Fingerstyle and Guitarists Get Theory are real physical books and they will both help you understand, improve and be excited by fingerpicking guitar and music theory – making your journey of learning guitar more fun and giving you a lovely book to have next to your guitar.
Both books have had dozens of 5-star reviews worldwide and have sold 1000`s of copies and either is yours for free, just for trying out the Elite Guitarist Inner Circle.
Both books work perfectly with the Elite Guitarist Inner Circle, they will help you improve faster and they are great books to have on your bookshelf that will help you for years.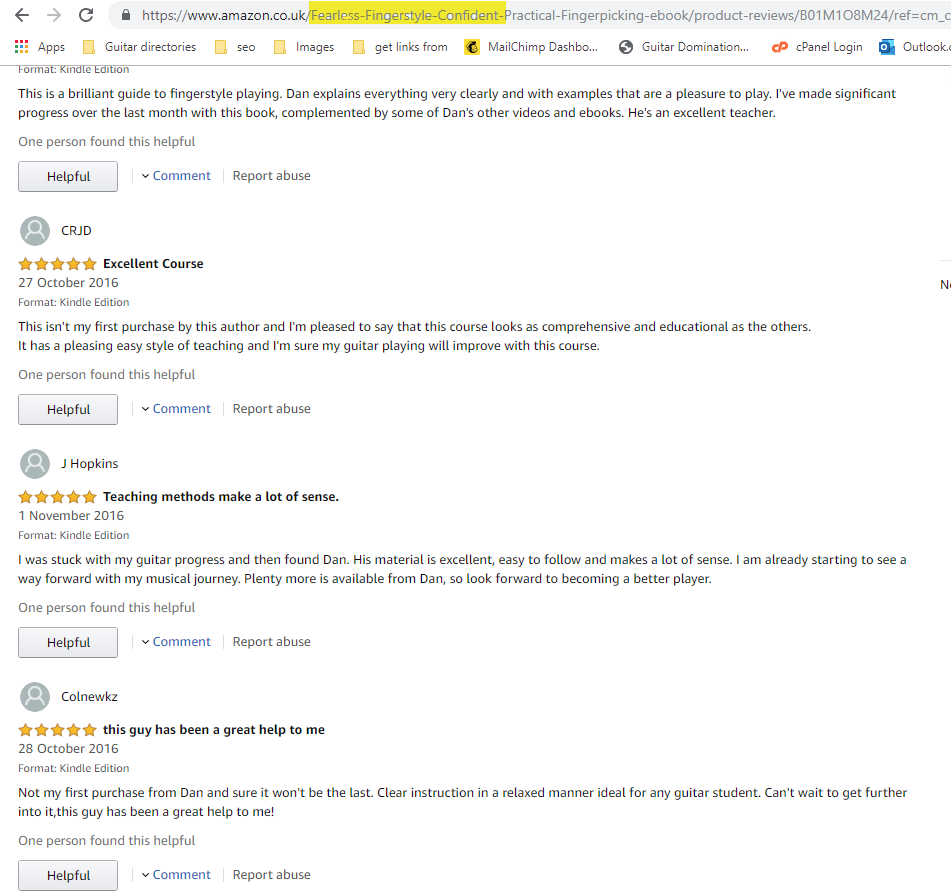 As a member of the EGIC, you will also get the following for FREE…
Priority email support
I get anywhere from 5 to 10 (sometimes more) emails every day from students asking for advice. I`d love to help them all out right away but unfortunately, it takes me sometimes up to a week to get back to them.
There is simply not enough time in the day for me to email everyone back.
For those joining, you will get priority support so I can answer any of your questions any time and usually within 24 hours. As a member, you can simply email me and you will get my answers, advice and help on any questions faster than ever.
Loyalty program
You will receive some very cool benefits such as free coaching, personal lessons, and/or free months of EGIC membership by staying a member for a long time and by referring other new members.
You will also "lock-in" on your current price. In other words, when the Inner Circle price goes up for new students, for you the price will remain what it was on the day you joined.
Discounts on all e-Courses and eBooks
You'll get a special discount code unique to you which will give you 25% off of all existing and future Dan Thorpe and Guitar Domination products.
This includes all my e-Courses and eBook bundles.
Backstage Area
In the exclusive backstage area, you'll get a whole host of goodies – completely exclusive to Inner Circle members. Think of the backstage area as the place behind the bike shed at school where all the cool kids would hang out while all the other kids would be jealous but stuck in class!
If you like free eBooks, fun content and humorous, interesting guitar things, check it out.
---
Beware…the Inner Circle may NOT for everyone!
The Inner Circle is NOT for everyone.
If you are a metal-head or a punk rocker, it is probably NOT for you.
If you are a pure jazz guitarist, then it is probably NOT for you.
If you only want to learn classical, then this is probably NOT for you.
I don't want to exclude people, but I don't want you joining only to realise that it is not right for you…
However, if:
You DO want to learn classic songs
You DO want to learn only tried and tested techniques that have been proven to work
You DO want to learn the best fingerpicking songs
You DO want to focus on the styles of pop, folk, rock, blues and country…
You DO want specific help, advice, guidance and motivation from a highly experienced teacher
….then this is definitely for YOU.
---
Frequently Asked Questions.
I`m 65 and have struggled on and off with guitar for a while. I like your teaching but will this work for me?
As long as you have at least an hour a week to be able to play, you can log in and watch the important lessons, (which takes seconds as you will be auto-logged in) and follow my advice, then YES, absolutely.
Age does NOT matter. 65 is not old in this day and age – 90 is old and even then there are dozens of 90-year-old guitarists on my mailing list and students who have bought my products who are doing well learning and improving on the guitar every day.
If they can do it, you absolutely can too!
Can I cancel the program whenever I want?
Of course. Whenever you want. There's an unsubscribe button within the membership site, and you can also email me directly at any time. I make it as easy as possible for you to cancel and value you as a student too much – therefore I make it easy for you to cancel.
I'd like to join but I'm concerned about my privacy and have been stung before.
100% of the content and communication in the EGIC is behind a private, password-protected paywall. All payments are completely safe using PayPal or Stripe for credit/debit cards (you decide how you would like to pay) and all data is completely encrypted using the latest SSL technology rivalling major sites such as Amazon.
It sounds really exciting and to be honest, looks awesome but what if my motivation drops off?
You do not have to worry. One of the perks of being a member is that I will be in touch regularly to encourage and motivate you.
You will be at the forefront of my mind as a member and your progress is absolutely paramount to me. If I`m taking your money, I`m making sure you make great progress!
Do you really blacklist those who quit and just joined for the book and to download the materials?
Yeah, if someone is clearly after a freebie, I will but if someone wants a break, of course not.
I only want people here who are committed to the guitar and their learning. If you think you're going to "master the guitar" by getting the free bonus book and watching a quick video, save your time and money.
It`s like going to the gym to do 10 push ups and quitting because you`re not instantly ripped!
I want nothing to do with people like that and to be honest, yes, even if costs me sales, I am fine with that.
I'm worried that I won't have the time to utilise the Inner Circle.
The time you spend learning the techniques, songs, and lessons the way I show you will save you many hours.
When you get stuck playing the guitar, you can either keep on trying to knock the door down with brute force, and keep hitting the same obstacle, OR you can ask an experienced guide to help you hop over the wall in less time with far less effort.
"I will teach you to play and practise smarter, not harder" – Dan
I truly believe if I can help you with one little issue every month it will save you time for the other 30 days in that month (and beyond), which means you will have MORE TIME to actually enjoy and cherish your guitar playing.
This happens regularly for other students and will for you too. Over the course of a year, fixing problems like this will make a massive difference to your playing and confidence and will free up so much more time to play and do other stuff.
What if I miss a new month`s lessons?
You can catch up at any time. I DO NOT recommend you try to learn everything in the Inner Circle. Life is busy. You should handpick and select which songs and lessons you want to learn.
There is a vast amount of lessons here but that is to give you the best possible choices. Learn from the lessons that suit you at this point and then come back and learn others when you want.
If I cancel before my year or month is up will I get a refund?
Yes, of course. You WILL get refunded for any time paid for but not used.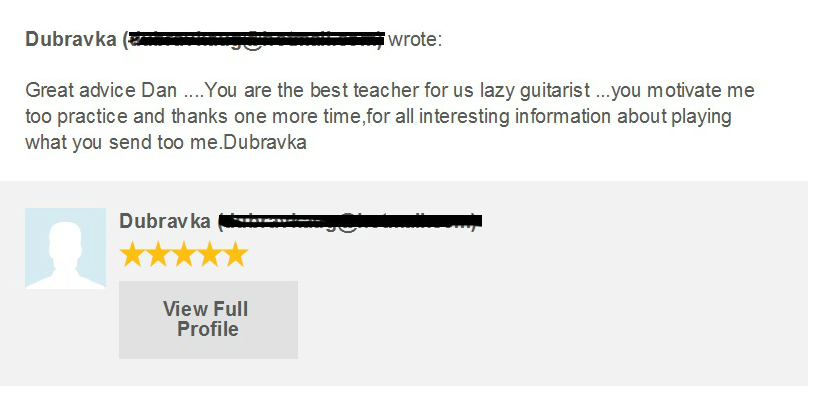 I guarantee your guitar playing improvement – or get your money back
If, for some reason, you don't find the Inner Circle works for you, you can cancel at ANY time and you will get the rest of that month's money refunded.
If you don`t become the guitarist you dream of being and reach the levels that you have always wanted to, just like my students, Chris and Paul did (who I told you about earlier), then you will get your money refunded.
If you have any questions, don`t hesitate to email me at hq@guitardomination.net
Join the Elite Guitarist Inner Circle today…
Instead of paying hundreds of dollars per month for each of these individual products, you get them all in one easy payment each month at a massively discounted price when you join below…
And you can start having much more fun on the guitar, erase your frustration, and be the happy, joyful guitarist who is always improving and always excited to pick it up each day!
Special offer half price
For your first month at $18.50
Then it is just $37 afterwards
Cancel anytime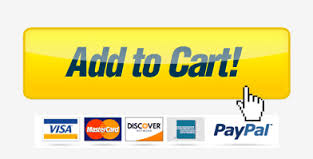 P.S. As this is my biggest and best product, it is the one I spend the most time on.
Because of that, and the amount of help, time and dedication I give to each student, I will NOT keep the price this low forever.
If you want to join, you can and you will "lock-in" at this price forever.
Remember, for this small price, which is less than 20% of what you would pay for regular lessons with a highly experienced teacher and not just Joe Bloggs from the local music store, you get a huge amount more benefit.
That is, tonnes of lessons, real coaching, a real book delivered to your door, a support network and lots more fun, exciting and useful things for you to enjoy.
Above all, YOU will become a much better guitarist who will have a lot more fun on this amazing but sometimes frustrating instrument! If you`re as excited as I am, join today and let`s start this amazing journey together! – Dan Thorpe