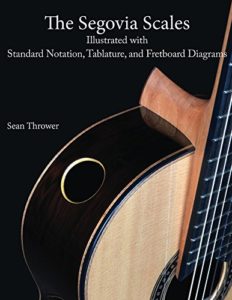 Book – The Segovia Scales
Author –  Sean Thrower
Amazon Link –  https://www.amazon.com/Segovia-Scales-Illustrated-Tablature-Fretboard-ebook/dp/B06XVH5626/
About
`The Segovia Scales` is based on the book `Diatonic Major and Minor Scales` by Andrés Segovia which was published in 1953. In this book, those scales are re-illustrated using a combination of standard notation, tablature, and fretboard diagrams.
This makes them easier to read, quicker to learn, and accessible to more people. Also included in the material is an explanation of how Segovia organized the scales, a reference page displaying the 8 finger patterns used to play all of the scales, and practice tips for increasing speed and accuracy.
What I liked about the book?
Segovia is one of the greatest and most accomplished classical guitarists of all time. His playing over many decades was sublime and his influence on classical guitarists goes on. Many guitarists fall into two traps with scales. They either learn one or two which is limiting or they learn far too many and not really ever get comfortable with them.
This book teaches you Segovia`s system of organising and practising scales. There are 8 patterns in the book and all 8 patterns feature a position shift (meaning you move up/down the fretboard) which is great as it will help you utilise the fretboard better than most guides will.
The book also has guidelines on how to finger each note in each scale, how to use the circle of fifths to organise the scales and various tips thrown in throughout.
Is there an audio cd and is it any good?
No, and it is not essential for this.
What I don`t like about the book?
As Segovia was a classical guitarist there is a big emphasis on the melodic minor scale which is the same as the natural minor scale except that you raise the 6th and 7th degrees of the scale on the way up only.
This scale is not really used for contemporary playing very often (other than some jazz) and most guitarists will find this scale not that useful. The natural minor is much more practical for modern music.
You could use the book as a template and then adapt the scale choices to fit your needs which is what I did when I first got the book.
Conclusion
Although not a long book, you could make the information in this book last many years and to master it, it would take years.
Apart from the fact, the melodic minor scale won`t be overly useful to the modern day guitarist, the information and way it is structured is very valuable. The key thing with any book like this is not to rush learning the information.
Many guitarists overload themselves with too much with scales and then stop learning or practising them. Segovia knew a lot about what it took to play the guitar well and this guideline is a great place to start. Just be sure to use it little and often if you do get it.
Just be aware this book won`t make you a great guitarist but it will give you the tools to practice scales in a systematic way which will allow you to make overall improvements to your playing.
Rating
9/10