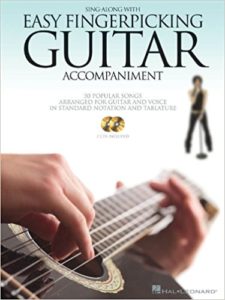 Book – Sing Along with Easy Fingerpicking Guitar Accompaniment
Author –  Hal Leonard
Amazon Link – https://www.amazon.com/Sing-Along-Fingerpicking-Guitar-Accompaniment/dp/1458441369/
About
This songbook features 30 popular songs arranged for guitar and voice in standard notation and tablature. Whether you're performing solo or backing up another singer, the guitar arrangements in this book will provide the perfect accompaniment. The chords and overall harmony of each song are specially tailored for fingerstyle performance and written in both standard notation and tab. The melody and chord symbols are also shown above the guitar part for reference.
What I liked about the book?
The songs are great and the arrangements are very good. Some of the songs are classic fingerpicking songs and just what you would expect in a book like this and some are a little more out there so there is a nice variety for everyone.
There are a couple I didn`t know before getting the book but this is great as it opens us up to more songs that we may not otherwise hear.
Some of the songs include:
Against All Odds (Take A Look At Me Now)
Black Hole Sun
Bridge Over Troubled Water
Don't Know Why
Every Breath You Take
The First Cut Is The Deepest
Free Bird
Hallelujah
Nights In White Satin
Walking In Memphis
A Whiter Shade Of Pale
Is there an audio cd and is it any good?
Yep, there is one, and it could be one of the best I have reviewed. The audio CD contains a demonstration of the complete guitar part and is enhanced so Mac & PC users can adjust the key without changing the tempo, and vice versa.
This makes it easy to put a capo on at a higher fret while still play along with the recordings of songs. The capo can make fretting chords far easier for beginners but this usually prevents you from being able to play along with recordings which is super useful. The CD allows this to happen.
Unfortunately, I couldn`t get the CD to work on my PC through a technical fault of the makers (you have to be logged in, in a certain way for it to work).
I had a quick listen on my CD player and it sounds good – the quality of the recordings are great. Shame about the technical issues.
What I don`t like about the book?
Some of the arrangements are a little harder or easier than I would have liked but if you are experienced or want to become an arranger yourself, then you can adapt the arrangements in the book by adding or taking away a few notes here or there to suit your skill level.
Conclusion
This is a super fun book and a really good one to have on your music stand. There is a wide variety of songs on offer and most of the arrangements are very good. The fact the CD wouldn`t work is a little annoying but I`m happy to put the original song on and just get jamming with it.
Rating
9/10