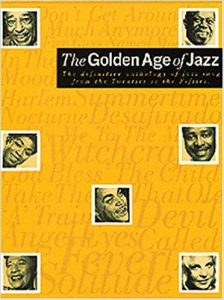 Book – The Golden Age Of Jazz
Author – Wise Publications
Amazon Link –  https://www.amazon.co.uk/THJE-GOLDEN-JAZZ-Jack-Long/dp/0711973334/
About
This is a pretty rare book full of over 90 classic jazz tunes ordered by decade. There are songs that feature from the 1920`s, 30`s, 40`s and 50`s all with chord diagrams, lyrics and the melodies. It features songs written by big jazz artists such as Duke Ellington, Oscar Hammerstein and Dizzy Gillespie.
What I liked about the book?
It is a no-frills book full of really interesting jazz songs. If I`m honest most of them I don`t know but since I bought the book a few years ago I find it quite an interesting little exercise to pick up the book and learn one of these songs and then have a listen on YouTube to how it was originally played.
This is a great exercise for your sight reading and really opens up your chord vocabulary as well as helps to improve your jazz guitar playing.
Is there an audio cd and is it any good?
Nope
What I don`t like about the book?
It is a very old school book in the sense that it doesn`t feature tab or any notes on the songs themselves. It is actually quite a big book showing the full arrangements of the songs. It is definitely a reference type book where you will want to go back to it meaning you can`t really read it as a book. The lack of notes will hinder a beginner to jazz as there is no guidance apart from the music itself on how to play the songs.
To get the most out of the arrangements you will also have to be able to read music. If you can`t you can follow the chord diagrams but reading music is a useful skill for the intermediate and beyond guitarist. Of course, this lack of tab will hinder beginners though.
One of the other issues with songs like these that often have multiple versions is matching up the song you are listening to, to the arrangement in the book as jazz is often about making the song your own.
Conclusion
This is a good challenge/inspiration type book, where you can challenge yourself to learn something out of your comfort zone or find some inspiring ideas to add to your playing on a rainy day. It certainly won`t be most guitarists first choice of book on their bookshelf but it can and will help those who want to dabble in jazz!
Rating
7/10