The Dan Thorpe Acoustic Academy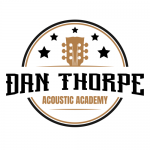 Exclusive "Deep Dive" Monthly Bonus for those who joined before 1st April 2021.
Learn 3 simple ideas that you can apply to the "Ultimate" strum pattern (DDU UDU). Make the pattern and songs that use it more exciting with these tips. Take your time learning them, as although simple, they are not necessarily easy. Download the TAB below too. Enjoy!
To download the video and TAB, click the links above. If your browser does not automatically download, right-click and hit "save as".
Go to your latest lessons page for more.