The Dan Thorpe Acoustic Academy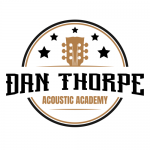 February 2022
"The Big Cycle" of Scales (Plus Workout)
"The Big Cycle" is a fun way of learning scales. It uses the west vs. east style of "box" positions and "up and down one string" way of playing scales. In this lesson we will use the E minor pentatonic scale for this (and you see just how powerful this scale is). 
You will also discover how to play "The Big Cycle" on any guitar, ideas on using it practically, how to reverse it, plus a workout at the end, where you can play it with me!
Note: There are two ways of playing "The Big Cycle" depending on if you have a "cutaway" guitar (meaning where you can easily access frets 12-15) or not. Keep watching for more on this…
Introduction
Watch this short video to see me introduce this powerful way of practicing and using scales. 
---
Part 1 – "The Big Cycle" With The E Minor Pentatonic Scale
Learning The Pattern
Let's learn "The Big Cycle" pattern. There are four parts to it, so take your time and view the TAB/notation too as this can be helpful alongside the video. Practice it slowly. 
If You Don't Have A Cutaway
If you play a guitar without a cutaway where you can't reach frets 12-15, watch this version where we play it an alternate way meaning anyone can do "The Big Cycle". View the TAB below…
A Fun Variety Of Exciting Ideas
Now, you might think, what do I do with a scale like this and how do I make it sound musical? Well, for inspiration I demo five ways from classical-esq., a fingerstyle blues (see this month's challenge for more on this sort of thing), a rock riff, and some B.B. King style blues lead. If you want to learn these exact styles, leave a comment below and we will in a future lesson…
Reversing The Loop
Don't just practice "The Big Cycle" in one direction. You will get more benefit by being able to play it counter-clockwise as shown here. This will make the exercise more practical in the real world. View the TABs below and get practicing the whole loop before the workout in the next video…
---
Part 2 – The "Play Along With Me" Workout!
Play Along With Me (Cutaway Version)
Now it's time to play "The Big Cycle" along with me! First we play the version for those of you with a cutaway guitar (where you can reach frets 15). We will play it clockwise, counter-clockwise, slow and fast! Enjoy!
 Play Along With Me (Non-Cutaway Version)
Now, here is the same thing but for those of you who do not have a cutaway guitar. Again we play it clockwise, counter-clockwise, slow and fast! Even if you have a cutaway, you can of course, play it this way too if you like a challenge!
We will develop these ideas further if you enjoyed this. Leave a comment below and let me know exactly what you would like to learn, either with scales in general or how you would like me to develop the above ideas. Take your time and enjoy!