The Dan Thorpe Acoustic Academy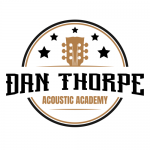 February 2022 – Exclusive "Deep Dive" Lesson
How To Play Wayfaring Stranger
Wayfaring Stranger is a beautiful song covered by Johnny Cash, Eva Cassidy, Ed Sheeran, and more. This is definitely one you want to add to your repertoire, especially if you have struggled to play songs before.
As new DTAA member Jerry said, this is "beautiful and haunting". Learn it, and you will impress others with it but more importantly, you will impress yourself.
Take your time, learn it well, and let's get this stunning piece nailed by the end of February. Get the TAB below, print it off if you need to and make this your priority for the month!
Part 1A: The "Playthrough" and Verse
Start off slowly. Get the first few notes nailed. Make them sound as stunning as possible. If that is all you do on day 1, that's great! Build the song up over the month. Patience is key. Remember you can simplify it further as shown in the video and for more help with hammer-ons, go here.
Part 1B: The Chorus
The Chorus is slightly more chord based but notice how you can avoid playing a full C and G chord here. Take your time with it though and make each phrase and each bit of the melody really shine! I would much rather you play two bars brilliantly than ten bars badly!
Part 2
In this lesson, I cover the details of how to really ramp up the piece to a new level, using harmonics, an outro idea, how and when to speed up, the power of dynamics, and more. Get the piece sounding wonderful and add these ideas on top to make it even better!
Do leave a comment below. Would love to know your thoughts on this and enjoy!