The Dan Thorpe Acoustic Academy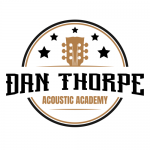 June 2022 – Week 1
Beginning Barre Chords – The A minor shape!
Part 1 – The Setup
Welcome to this important lesson. Today we will begin this series with the A minor barre chord shape. Here we are talking nails, the "Elbow/Shoulder Axis, why it's essential you breath and relax, and the very powerful "Pre-Barre Chord Test".
Part 2 – Building It Up
Let's step it up. Now it's time to methodically build up the A minor barre chord shape one note at a time. This is highly effective and if you focus on applying this method you will very likely improve your barres faster than most. We also play a variety of simple musical exercises to ensure the notes are clear and you are playing them smoothly…
Part 3 – Making Music
Now let's play a fun 4-bar piece of music to help you test and improve what you've learnt so far. I also recap the main points of these three videos and share a few other useful tips to help you improve faster!
Watch the videos multiple times and apply the specific tips daily. Barre chords are technical and tricky. If this is tricky (it is), be very patient and very precise. Also, you'll be pleased to know the next lessons for June will be more light-hearted (this will bring balance to the force). 
Do leave a comment below and share your thoughts on this lesson. Most of all, enjoy!