The Dan Thorpe Acoustic Academy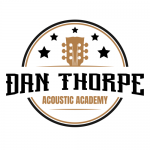 June 2022 – Week 2
Triads! – Getting Started
Part 1 – What Are Triads?
Triads are great fun. I see them almost like a hybrid between rhythm and lead guitar. As you will see they have the harmonic quality of a chord but the melodic nature of lead guitar. In this first lesson we quickly introduce and cover some of the theory and fun possibilities triads allow. Use this lesson along with the TAB for best results.
Part 2 – Your First Two Triad Shapes
Now, we get to the nitty gritty. In this lesson you'll learn how to play triad versions of Am and F. Plus, you will learn how to jam them in a few simple and confidence building ways. Take your time, this may be new to you, so do be patient!
Next week Parts 3 and 4 will be released. There we will take the above lessons and really run with them!
As always, watch the videos multiple times. Triads may be a brand new concept for many of you. The key thing is to be very patient. They are great fun and can really open up many new doors in your playing, now and in the future, so stick with them if they appeal to you!
Do leave a comment below and share your thoughts on this lesson. Most of all, enjoy!