The Dan Thorpe Acoustic Academy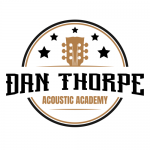 March 2022 – Exclusive "Deep Dive" Lesson
How to Play A Fingerstyle 12-Bar Blues (No Matter What Your Skill Level)
I always say, every guitarist should learn at least one stunning 12-bar blues piece in their guitar playing lifetime. It's fun, unique, instantly recognizable, emotive, audiences love it, and as this version does NOT need chords, it gives you a break from tough stuff like hard chords and chord changes! Get the TAB below your chosen arrangement, print it off, and take your time with this piece. The blues is great fun!
An Important Introduction and Listen To Both Arrangements
Take a listen below, choose which version you want to learn (if in any doubt at all, start with the beginner version).
The Palm Muting Essentials – Watch This First
It's important you get the palm muting just right first. Whichever arrangement you choose to learn, watch this video first as the palm muting technique and the picking hand tips in this video will really help you get started off on the right foot. 
How To Play Version 1 – The Beginner Arrangement
If in doubt, start with this arrangement. It's simpler and it will help you to play a really fun 12-bar blues but without being technically too hard. It will still take practice of course, piecing it together, but once you nail bar 1 and 2, the rest of the piece will start to be unlocked.
How To Play Version 2 – The "Early Intermediate" Arrangement
The "Early Intermediate" arrangement is great fun to play. It builds nicely on top of the ideas in the beginner version and has a lot of syncopation in it (as players like Eric Clapton and Tommy Emmanuel use a lot in their blues). Watch the video closely and spend a lot of time on bar 1 as this will "unlock" the rest of the piece. 
I hope you enjoy these blues arrangements. The blues is unique, sounds like nothing else, and everyone should have one solid blues piece in their repertoire. Learning and mastering either of the above will add new skills, new enjoyment, and a new sound to your playing. The blues is the backbone of so many styles and is present in so much music from the last 100 years, so I hope you enjoy going through time and space as you learn these licks!
Leave a comment below. I would love to know your thoughts on this and enjoy!