The Dan Thorpe Acoustic Academy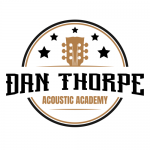 Exclusive "Deep Dive" Monthly Bonus for those who joined before 1st September 2021
How To Play My Simple Fingerstyle Version Of Beethoven's Masterpiece, "Ode To Joy"
"Ode To Joy" is a wonderful and very recognisable classical piece, from the great composer, Beethoven. This arrangement is simpler than many out there yet still sounds rich and full (it is not "easy" though so be patient and take your time). If you find this tricky, learn how to simplify the piece the proper way at 20:54 in the video. Get the TAB/notation HERE.
To download the video and TAB, click the links above. If your browser does not automatically download them, right-click and hit "save as".
Leave a comment below if you have any thoughts on this or questions and enjoy!