Supercharger Lessons
Alternative Strumming Patterns
Strumming and rhythm go hand in hand. If you improve one, you generally will improve the other. As long as you have good basic strumming technique, you can't learn too many strum patterns.
It fact, once you have learnt the core strumming patterns (which everyone should do), it is a good idea to learn a variety of other less common strum patterns.
Doing so will improve your sense of rhythm and allow you to be one of those guitarists who can seamlessly alter and vary strum patterns on the fly as well as mix and match different strum patterns for a particular song.
These are the well sought after intermediate skills that everyone wants, so in this month's 'In Focus' lesson we will learn some other, alternative strum patterns.
These are strum patterns that you might not have used before but will give you a bigger and better strumming arsenal and will help you reach the next level with your overall playing.
Alternative Strum Patterns
Popular music encompasses a very limited number of time signatures and rhythm patterns.
Time signatures other than 4/4 (common time) and 6/8 are extremely rare among radio hits but the amount of variety of rhythm within those two time signatures can be overwhelming.
The important thing is to learn the core strum patterns and then work on incorporating in the other less common ones.
Alternative Strum #1 – Offbeat groove
The first alternative strum pattern we will look at is a fun one.
Notice the three up-strums in a row on the tab below. This is a little unusual but gives the strum its distinct groove.
To achieve a fluid sound, I suggest relaxing your wrist and concentrate on light and free strumming.
Here's how this could be employed in a typical pop tune.
Offbeat groove

Alternative Strum #2 – Slow ballad pattern
This is one of the fundamentals. This pattern can be encountered everywhere from an 80's or 90's power ballad ("I will always love you", "My heart will go on" etc.) to a rock song to a Coldplay number.
It consists of strumming a chord on every beat of the bar accenting on 1 and 3.
You can vary this strum as shown in bars 3 and 4 to really change it up. This is common in ballad songs, where the strumming often gets ramped up as the song climaxes.
Slow ballad in G Major

Alternative Strum #3 – Funk like rhythm
This one is a little tricky as you have to synchronize your two hands and get used to muting the strings with your left hand.
One way to approach this rhythm is by playing 16th notes with your right hand with all strings muted and gradually adding the chords.
I would try to get in the groove with this strum pattern and don't overly concern yourself with getting the mutes in the right place. It is much more important to have the right 'feel' than being 100% precise. Too much emphasis on precision can kill the groove.
This one is loosely inspired by "Don't Let Me Down" – The Beatles.
Funk like rhythm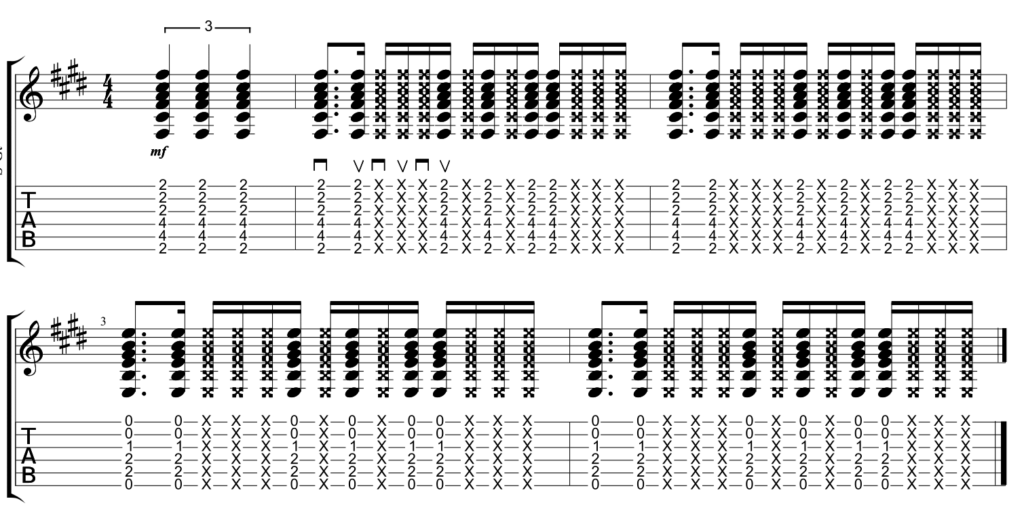 Alternative Strum #4 – Bass/Treble Strumming
This strumming pattern is also a timeless one.
It can be found in many songs such as Ed Sheeran's – "The A-Team".
This one requires a light hand too and focus on beats 2 and 4. Aim to get a distinctive bass sound throughout by hitting the bass notes harder.
Bass/treble groove in A Major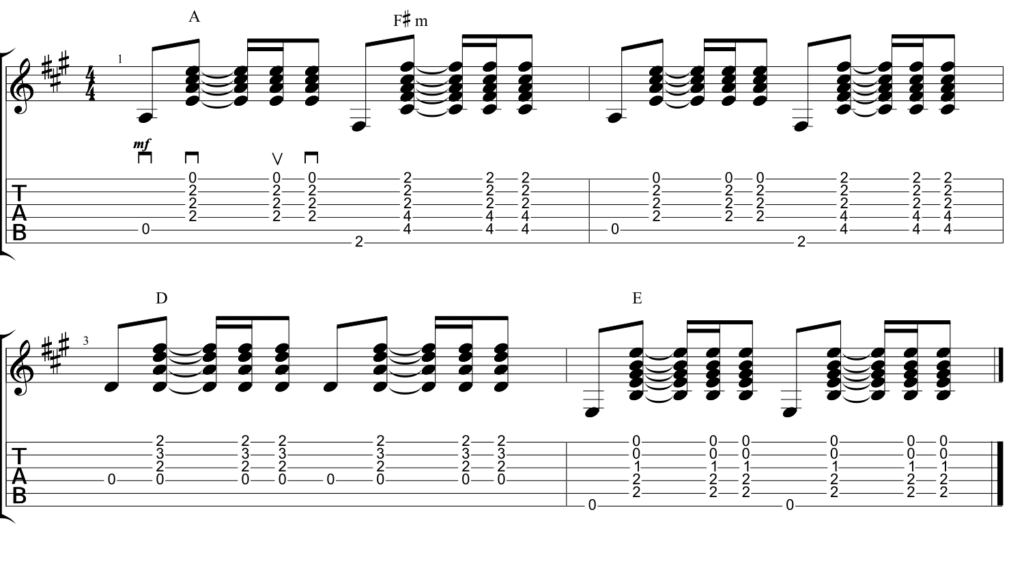 Alternative Strum #5 – The Classic Rumba!
Rumba is a rhythm that derives from southern Spain's folk music, flamenco. Mainly practised and developed by the gipsy population in the region of Andalusia, flamenco has met worldwide recognition during the late 20th century mostly due to guitarists like Paco de Lucia, Sabicas, Tomatito, Vincente Amigo, etc.
Rumba involves a good sense of rhythm and a skilled right hand. It can be tough in the beginning but once you are able to play a clear rumba pattern, you will have an awesome rhythm pattern.
The example below is based on Paco de Lucia's "Entre dos aguas".
To play the rumba you have to follow these steps:
First, you have to separate the thumb from all the other fingers.
Then, the movements are:
thumb down
thumb up
rest of the fingers down
thumb up
slap
thumb up
rest of the fingers down
Get yourself familiar with this pattern and go on to implement it in the example.
"Entre dos aguas" – Paco de Lucia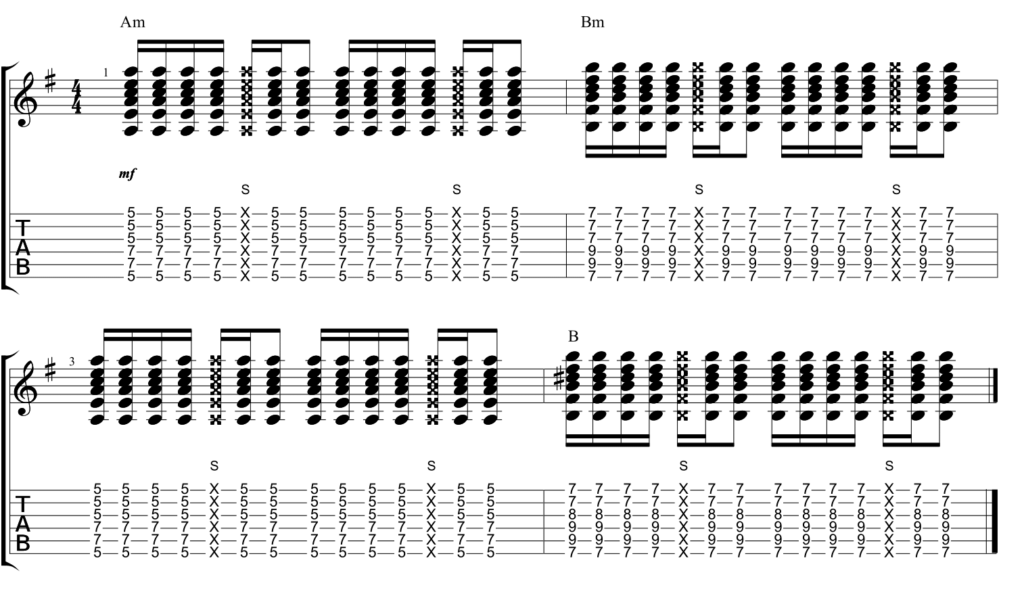 Summary
Rhythm playing and strumming are both such an important part of guitar playing. Too many teachers focus on chords and scales but I'm a big believer if students can get super tight rhythm skills then they will be ahead of the rest.
This lesson is challenging as it has a wide variety of patterns on offer but stick with it. I suggest studying and practising the examples until you get them tight.
Also, to get the most out of this lesson you should not only practice the examples I present but also try to comprehend and find these patterns in the songs you already play or the ones you are about to learn.
My goal is for you to be able to play effortlessly the rhythm of a song when you face a chord chart. I hope this lesson was helpful and with a little bit of practice, you can understand the rhythm or the probable strumming pattern of every song you hear on the radio.
For more 'In Focus' lessons on strumming, check out the lesson on 'One Bar Strumming Fills' and the lesson on 'Accented Strumming'.
---