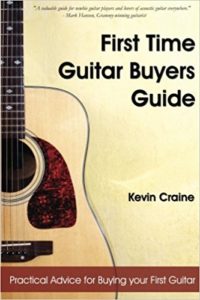 Book – First Time Guitar Buyers Guide
Author – Kevin Craine
Amazon Link –  https://www.amazon.com/First-Time-Guitar-Buyers-Guide/dp/061570851X
About
The First Time Guitar Buyers Guide has all the information you need to find, evaluate and purchase a great first guitar.
Author and guitarist Kevin Craine takes you through the process while providing a valuable handbook on what to look for, what to pay, and what steps to take to find the best deal.
Here is all the information first-time buyers need to find a guitar best suited to your style and your budget.
What I liked about the book?
As someone who has bought and sold many guitars, I`m probably not the intended audience for this book but nevertheless, there is always something to learn and bits of advice to pick up from others.
Most of the information I already knew but for someone who is inexperienced in buying guitars or wants some specific advice, this is a great book.
The best and most practical chapter is the `What to look for` chapter where the author details important things to spot when trying out a guitar.
These things aren`t always obvious – things such as `belly bulge` – where the wood around the bridge of an acoustic can start to raise due to excessive tension, as well as more commonly known things such as the action, truss rod and more.
The book also clears up a lot of the terminology that confuses guitarists. Things such as what is a dreadnought, orchestra model, jumbo, 000, 00, 0 sized guitars. These are things that confuse a lot of people and most people discussing it on the net assume you know it all already.
Is there an audio cd and is it any good?
No, and there is no need for one in a book like this.
What I don`t like about the book?
There is not much to not like about the book. There could probably have been a bit more practical advice on which sites and what places to go to, to find some bargains but really this is a book that will stand the test of time as it contains information that won`t necessarily go out of date.
Although a CD isn`t needed an audio link to the chapter `what to listen for` would have been useful as he describes tones of a guitar such as `bright, dark, tubby`. Now, these words are subjective and can mean slightly different things to different people so some sort of audio – even a link to a couple of audio files would have been useful.
Conclusion
It`s a short and concise book that contains plenty of interesting and useful information for those looking to get a new guitar. It`s not groundbreaking but is a good read that has a lot of good information in one place.
Even experienced buyers will learn a thing or two about the buying process and what to look for.
Rating
8/10