The Dan Thorpe Acoustic Academy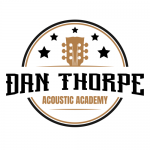 August 2022
The Most Awesome Musicality Exercise Ever!
Introduction
If you want a simple exercise that will improve your timing, dexterity, ability to foot tap, play to a click, and musicality, then look no further. It's not an easy exercise but we'll break it up into bars and three stages for every bar. This means anyone can do this exercise and benefit from it no matter what your skill level. You can and will build up to the full exercise. Here's more about it…
Bar 1 – Getting Started With The Exercise The Proper Way!
Spend most of your time with this video. Here we are focusing on bar 1, and breaking it up into three stages. Get the TAB/notation and remember, it's key to follow the advice in the video about good technique. This is absolutely key for a technical/musical exercise like this…
How To Tap Your Foot, Use A Click, And Improve Your Timing!
Now then, let's take the above and get practising it with tight timing. To do so, I show you how to play the first bar using a foot tap and then a metronome. You can (and should) apply this to the rest of the parts too.
Moving Onwards With Bar 2 
Let's take the exact same principles from bar 1 and apply it to bar 2…
Bars 3 and 4 – The Same Sort Of Thing As Before!
As long as you have gone through the previous videos, there is really nothing more new here. You are simply taking what you've already learnt and moving it up the fretboard. Take your time though, and revisit the earlier videos if you need to!
Putting it All Together!
Finally, let's put it all together to play the full exercise! Go slowly with it, you're doing great! Keep coming back to the exercise, and each time you do, you will see more improvements!
There it is. That's a powerful exercise. There are lots of ways to simplify it for anyone to use. If in doubt, do bar 1 on its own at stage 1 (which is where you only play the D string). Take your time and build it up!
Leave a comment below and share your thoughts on this lesson. Most of all, enjoy!