The Dan Thorpe Acoustic Academy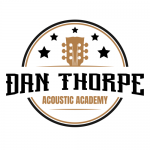 The 3-Step Plan For February 2022!
Here is a plan for the month of February to help you make wonderful progress over the next 28 days…
Step #1 – Learn a super simple song that sounds beautiful – you can of course choose any song you like but I highly recommend Wayfaring Stranger. (Spend 10-20 minutes or so on this per day)
Today, just learn the first part of the melody which is the line "I'm just a poor wayfaring stranger" – this is the first 5 minutes of the first video – you can do this today!
Step #2 – Improve your technique and fix any bad habits that hold you back
Do this by starting with the In Focus Course from the very first video and work your way through them one by one (spend 5-10 minutes per day). If you have watched already, it is well worth refreshing them (you can speed up the videos to save time if you have already watched them a few times).
Step #3 – Fill in all the holes in your playing (using any extra practice time you have spare)
For this you can learn about theory with my theory book (email me if you do not have this) or you can use the other new lesson – "The Big Cycle" of Scales…
That's it.
If you are busy, the shorter version of the above takes 15 minutes and the longer version if you have time, takes 30 minutes or so.
Simply focus on the above in that exact order of priority.

Forget everything else, and as I say, forget hopping around on YouTube like Kylie kangaroo jumping from one video to the next. Even here in the DTAA, there are lots of options for videos to watch. It can be tempting to watch them all. Don't. Stick to the plan and only when you have spare time (i.e. in step 3) should you browse about. 
If you do, by the end of the month you will be able to play a wonderful song (step 1) and improve your technique (step 2), plus other additional bonus bits of progress (step 3).
So one more time…
Stick to the plan and don't worry, as a Dan Thorpe Acoustic Academy member, you will get regular emails with me motivating you and keeping you accountable and focused on using these lessons this month. Don't forget you can leave a comment on every page asking questions or leaving any thoughts. 
I love to read them too. Enjoy!