The Dan Thorpe Acoustic Academy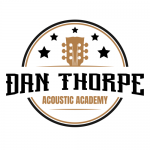 June 2022 – Week 3
Triads! – Going Further
Part 3 – The Next Two Chords
This lesson follows on from Part 1 which you can watch HERE. In this lesson, we are developing our new triad shapes further and turning them into an exciting chord progression. Use this lesson along with the TAB for best results.
Part 4 – The Am-F-C-G chord progression
In this lesson we are putting everything we have learnt so far together into a fun way of playing the common Am-F-C-G chord progression. Take your time, and work slowly through this lesson. Remember, you can come back to it forever. Most of all, enjoy it!
Remember to go back and watch Part 1 if you need to. As always, watch the videos multiple times. New subjects such as this can be "heavy" so take your time, keep coming back to it, and enjoy. If you do, you will have more tools to "unlock" the fretboard, which of course will help to make guitar playing even more fun.
Do leave a comment below and share your thoughts on this lesson. Most of all, enjoy!