The Dan Thorpe Acoustic Academy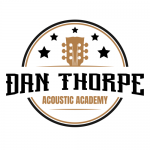 The 3-Step Plan For March 2022!
Here is a plan for the month of March to help you make wonderful progress over the next 31 days… (Click the highlighted links below to go to the relevant pages). 
Step #1 – Learn the 12-bar blues arrangement OR choose a song to learn (10-20 minutes per day)
For the month of March, I recommend you learn either the:
It may be tempting to learn lots but stick with one choice of either of the above and really go for it. If you do, by the end of March, you will see better results.
Step #2 – Do the 4-Minute Workout daily (4 minutes per day)
I want you to see noticeable results with both your technique/relaxation and strumming  by the end of the month. This quick workout will help with both. Do it daily if possible.
Step #3 – Fill in all the holes in your playing (any extra time you have)
Once you have done steps 1-2 above, you may still have time to practice. Here you can refine a song you have previously worked on (elsewhere or with me) or you can go deeper with your fundamental technique…
That's it.
If you are busy, the shorter version of this plan may take just 14 minutes but if you have time you can do the above 3-steps for an hour or so (take short breaks though).
As I said last month, I will say again:
"Focus on the above in that exact order of priority"

Focus. Forget everything else – as I say, forget hopping around on YouTube like Kylie kangaroo jumping from one video to the next. Even here in the DTAA, there are lots of options for videos to watch. It can be tempting to watch them all. Don't. Stick to the plan and only when you have spare time (i.e. in step 3) should you browse about.
This gets results – If you do focus, by the end of the month you will be able to play a wonderful blues piece or a classic song (step 1) and improve your technique (step 2), plus other additional bonus bits of progress (step 3). This will be a superb achievement.
Remember, as a Dan Thorpe Acoustic Academy member, you will get regular emails with me motivating you and keeping you accountable and focused on the above plan this month.
Leave a comment below or on any page with any questions or thoughts. I love to read them. Enjoy!