The Dan Thorpe Acoustic Academy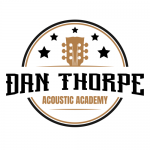 Exclusive "Deep Dive" Monthly Bonus for those who joined before 1st October 2021
How To Transform The Most Basic Strumming Pattern Into Something Far More Exciting
Strumming all of the strings all of the time can sound pretty boring after a while. A great way to transform boring strumming is to try "Bass/Treble" strumming. This is a fun technique that you can apply to lots of your playing. It uses all downstrums and is fun! Take your time with it and enjoy! Get the TAB/notation for the lesson HERE.
For more help with the G D Em C chord progression, go HERE. To download the video and TAB, click the links above. If your browser does not automatically download them, right-click and hit "save as".
Leave a comment below if you have any thoughts or questions and enjoy!